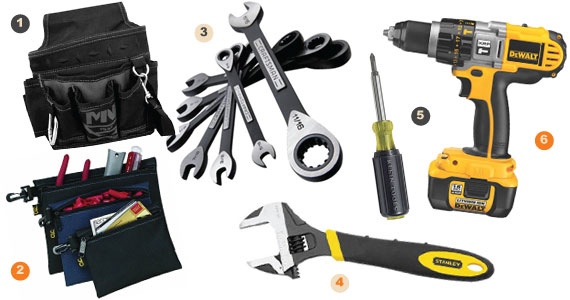 Look, I'm not here to judge you.  You say that you can't fix your refrigerator's built-in ice dispenser or you don't know why your car is making that strange noise and I believe you.  Growing up in our age of factory molded plastics and digital electronics, we are a lot less likely to feel as though we can understand the inner-workings of the complex devices we encounter in our daily lives.
But some things never change:  Faucets still leak.  Picture frames still got to get hung.  Table legs still go wobbly…  When facing these tasks, a little handiness goes a long way.  Lucky for us there has never been a better time to develop handy skills.  With so many online tutorials, forums and YouTube video demos, PDF manuals, you have all the information you could ever need to tackle any do-it-yourself project.
All you really need now is a good set of basic hand tools, and you'll be the handiest guy or gal on your block before you know it.  So here is a list of hand tools that I use most often and recommend to anyone interested in getting their hands dirty.
One last thing before we get into list:  If you have never purchased tools before, I would recommend you try to get the exact professional brands that I use (most items you can just click through to buy).  All tools are NOT created equal.  In fact, there are a lot of cheap tools out there that are really just a waste of money.    Cheap tools can make whatever job you are doing feel frustratingly difficult or even  impossible.  Even if you're just an amateur, ALWAYS buy professional-grade tools.  You may be surprised to find that you have more ability than your cheap tools allowed you to realize! 1. McGuire-Nicholas Pouch
, 2. Nylon Zipper Pouches
, 3. Set of Ratcheting-Box-Wrenches
, 4. Large Adjustable Crescent Wrench
, 5. Klein Tools 5-in-1 Screwdriver
, 6. DEWALT 18V Drill
Continue reading →