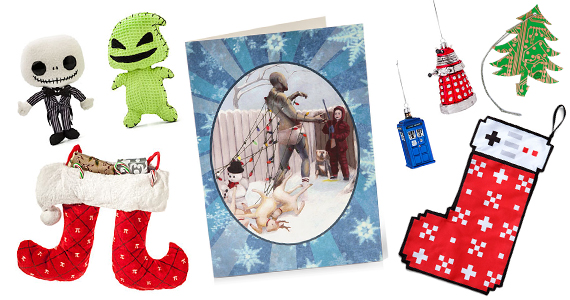 All right fellow geeks, it is time to start the Christmas fun.  Now that we have all celebrated Thanksgiving we must focus our energies on the next Holiday.  Get in the geeky Holiday spirit with these ideas hand picked just for you:  1. Motherboard Christmas Ornaments
, 2. Zombie Christmas Cards
, 3. Nightmare Before Christmas Mini Plush
, 4. Pi Christmas Stocking
, 5. Doctor Who Christmas Ornaments
, 6. 8-Bit Christmas Stocking
Motherboard Christmas Ornaments
. If you haven't yet taken the first step into geeky holiday decor, we'll help you out with this set of three Christmas ornaments, each cut from recycled motherboards. Green trees, blue stars, and red bells, each about 3.5 inches wide, will look great hanging from your tree. Spruce, fir or pine doesn't matter. Heck, hang it from your fake plastic-tree, if that's your game. So, ring in a cool Yule, and celebrate the season, geek-style!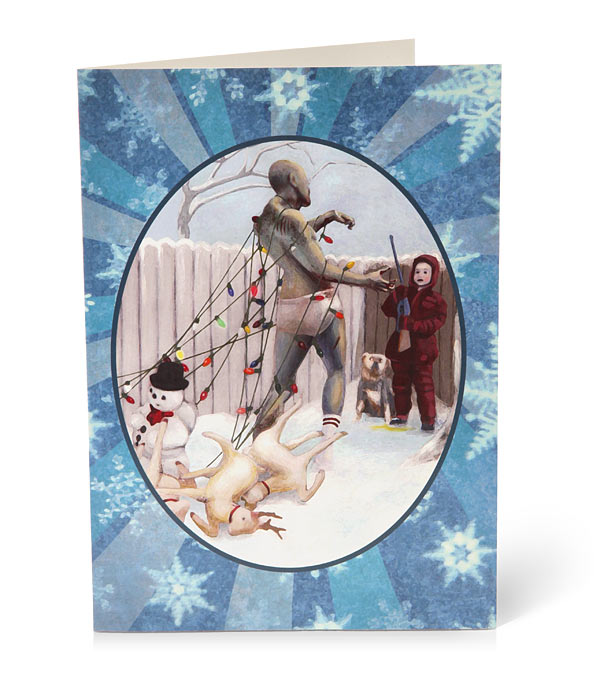 Zombie Christmas Cards
. These hauntingly festive Zombie Christmas Cards are perfect for your Season's Greetings! There are four different cards in each pack of Zombie Christmas Cards, so you can make sure each person on your list gets just the right card. The art is in the style of classic cards, but with zombies and gore added.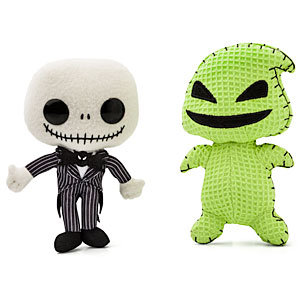 Nightmare Before Christmas Mini Plush
. The Nightmare Before Christmas is one of our most favoritest movies of all time and space. And now, we have the perfect pals to share the movie with: these adorable Nightmare Before Christmas Mini Plush. Jack, Sally, Zero, and Oogie are all ready to be cuddled and hugged by you. They are cute, they are lovable, and Oogie is 100% not full of bugs. Get them quick to make sure you have a happy holidays.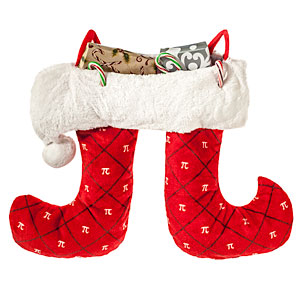 Pi Christmas Stocking
. A Pi shaped Christmas stocking is much more fun and you have two sides to stuff with tiny presents! And although Christmas is no Pi Day, it is still a pretty fun day to celebrate.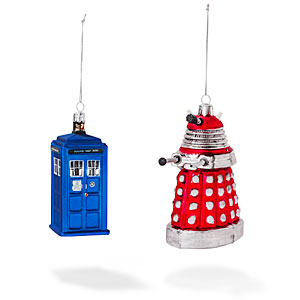 Doctor Who Christmas Ornaments
. The Doctor always has a Christmas special, so we assume he must celebrate Christmas. But knowing The Doctor and his love for all people, he probably also celebrates Hanukkah, Kwanzaa, Festivus… if there's an excuse for celebration and adventure, he's sure to be there. When The Doctor decorates his Christmas tree, we imagine it is full of ornaments from all over time and space. On a recent trip to Earth 2012, he found these glass ornaments and just had to get them: a beautiful glass TARDIS and an equally beautiful (in a terrifying sort of way) red Dalek. No geek tree is complete without a little bit of shiny timey wimey.
8-Bit Christmas Stocking
. It's a retro gaming Christmas! 8-Bit style with retro gaming controller print on top.