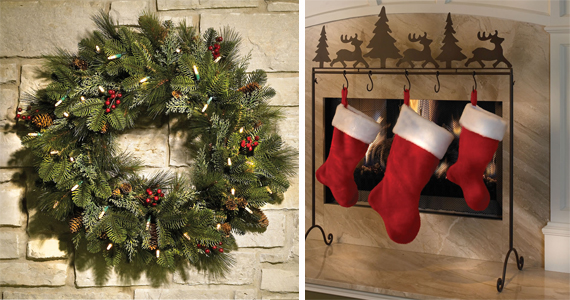 Add these unique Christmas decorations to your classic collection.  In this set we feature Christmas decor that are both practical and charming.  These modern decorations will make your home look even better than last year.  For example, decorations with LED lights avoid having to deal with those pesky extension cords that are hard to hide and take away from the experience:  1. Park Hill Collections 36″ Topiary Tree, 2.  Home "Joyeux Noel" Script Christmas Tree Skirt, 3. Cavallini Christmas Santa Mailing Sets
, 4. The Fiber Optic Christmas Stocking
, 5. The Classic Christmas Song Gramophone
, 6. The Decorated Cordless Prelit Holiday Trim (Wreath)
, 7. The Place Anywhere Stocking Holder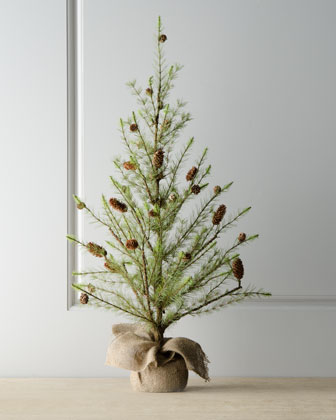 Park Hill Collections 36″ Topiary Tree.  Add a few special ornaments and this petite tree is ready for all your Christmas celebrations. Or display it unadorned to add a natural touch to holiday decor.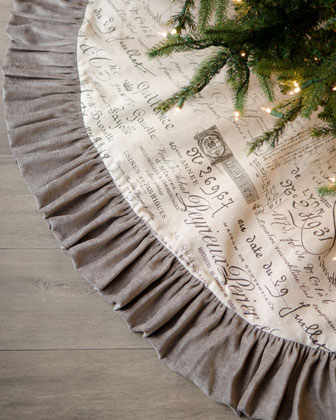 Home "Joyeux Noel" Script Christmas Tree Skirt.  Add a bit of Continental flair to the Christmas tree with this charming script Christmas tree skirt. A gray velvet ruffle adds a bit of flirtatious fun.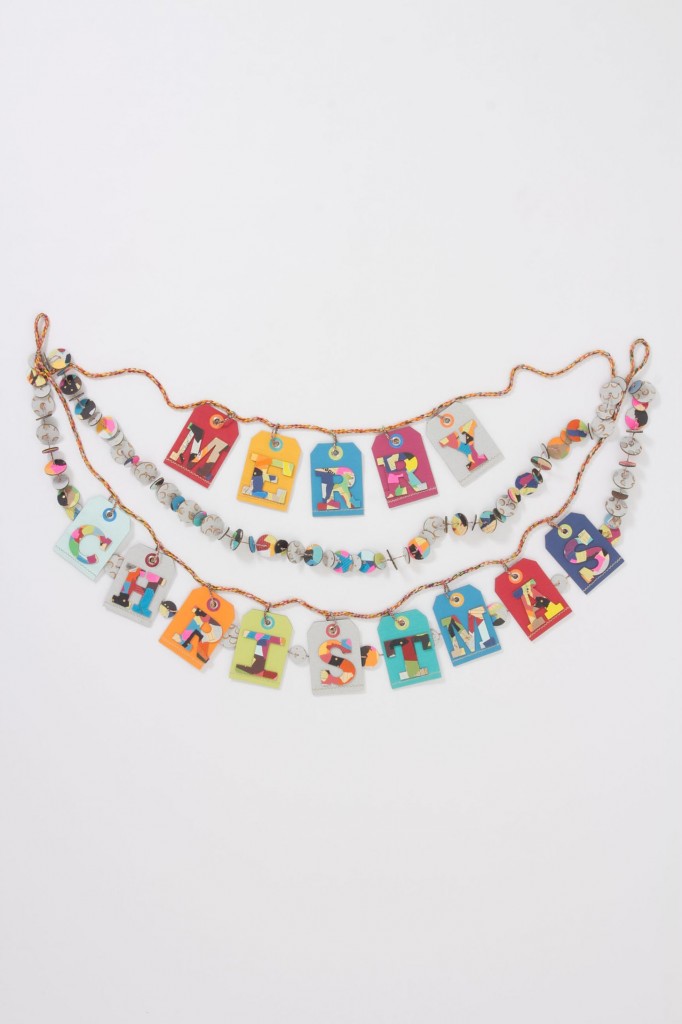 Cozy Collage Christmas Garland.   This handmade paper garland is sure to brighten up any room with Christmas cheer.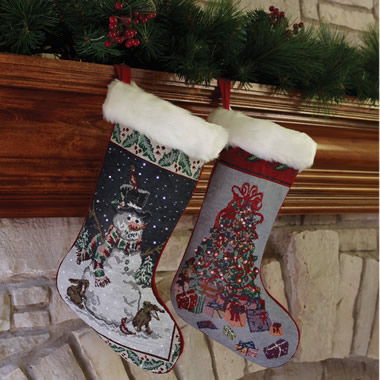 The Fiber Optic Christmas Stocking
. This is the Christmas stocking illuminated by integrated fiber optic filaments that create the effect of a twinkling, glowing tree or newly fallen snow around a snowman. The stocking is woven from polyester into a tapestry pattern that recreates a colorful Christmas tree surrounded by presents or a freshly made snowman in a snowfield flanked by two curious rabbits.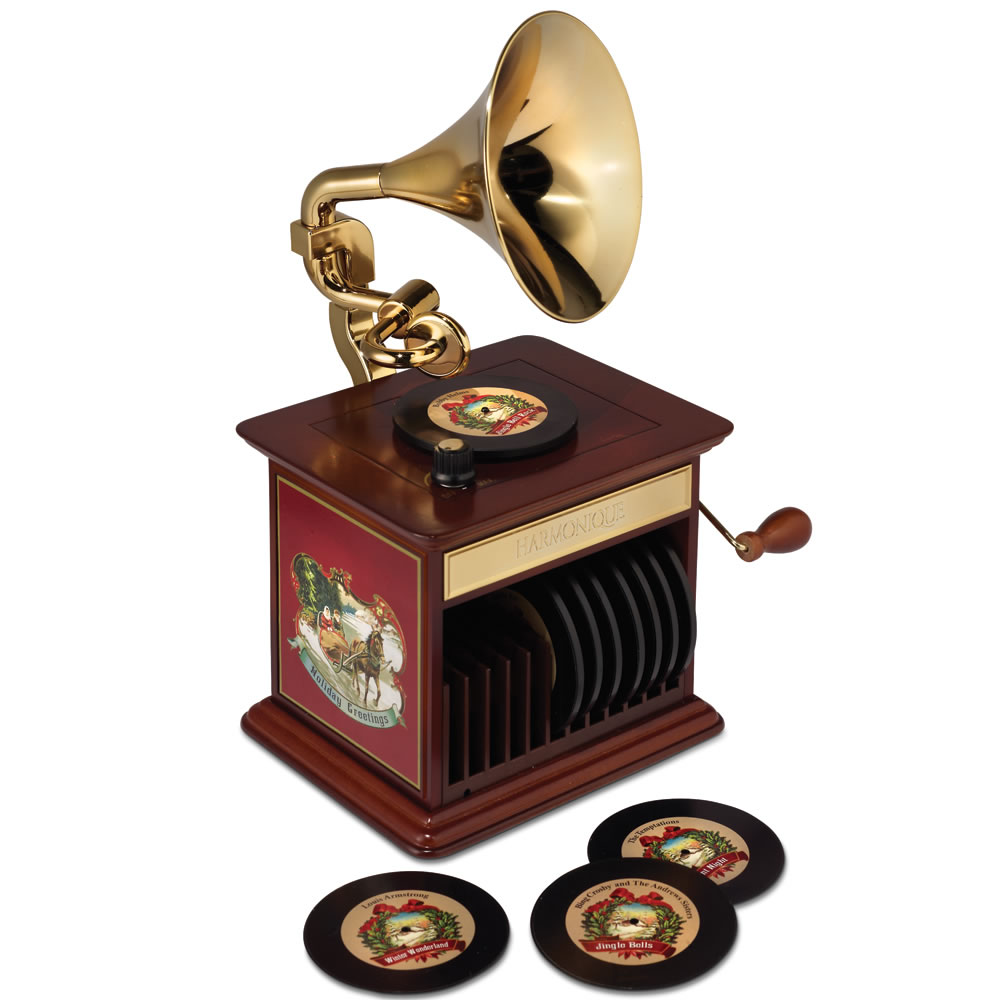 The Classic Christmas Song Gramophone
. Recalling the record-playing phonographs from days of yore, this is the digital gramophone that plays classic Christmas songs performed by renowned musicians. The 12 included 3″-diameter records each represent a classic song, including Here Comes Santa Claus by Bing Crosby, Winter Wonderland by Louis Armstrong, and Let it Snow by The Temptations.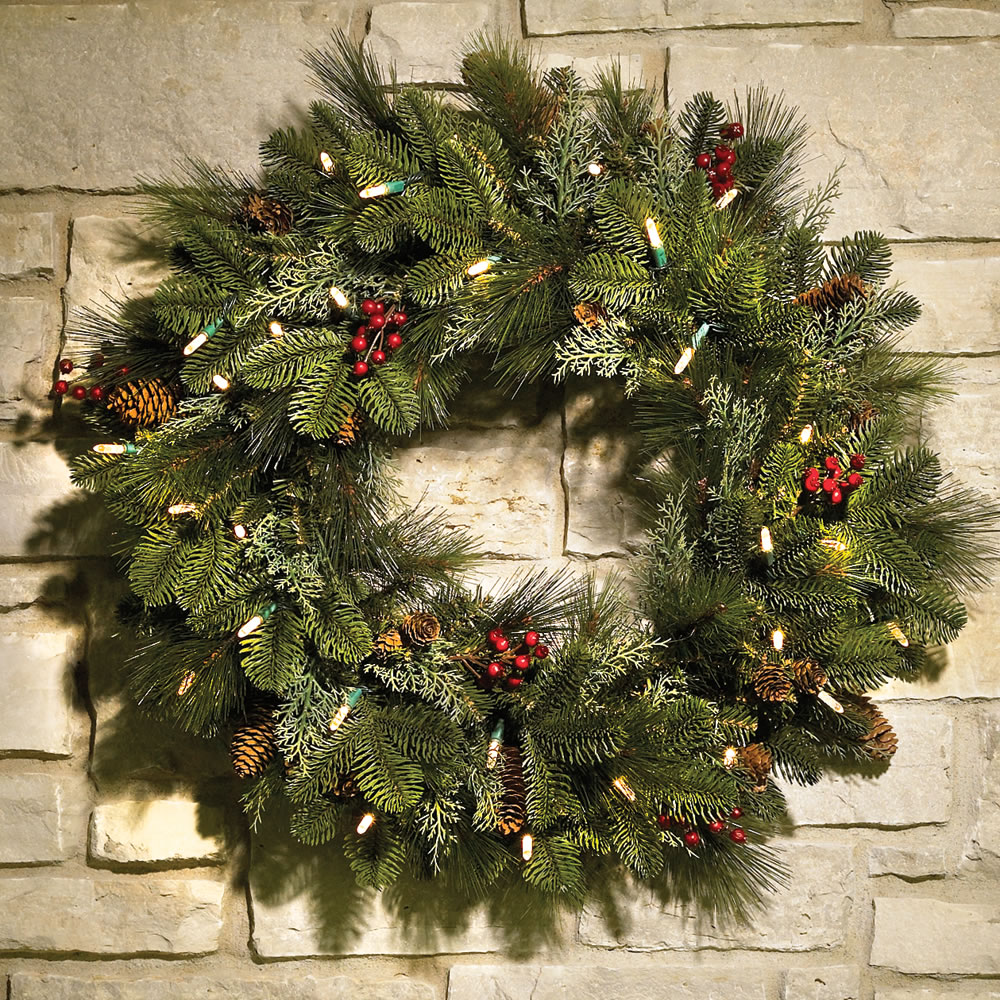 The Decorated Cordless Prelit Holiday Trim (Wreath)
. These cordless illuminated decorations do not require an electric outlet, allowing you to place them anywhere indoors or outdoors. They are pre-strung with commercial white LED lights that cast a warm glow—all rated for 20,000 hours of use. The lights may be left on continuously, or set to stay on for six hours and automatically turn off for 18 hours. Lifelike Noble fir and pine branches are decorated with red berries and two styles of pinecones that add contrasting colors and shapes.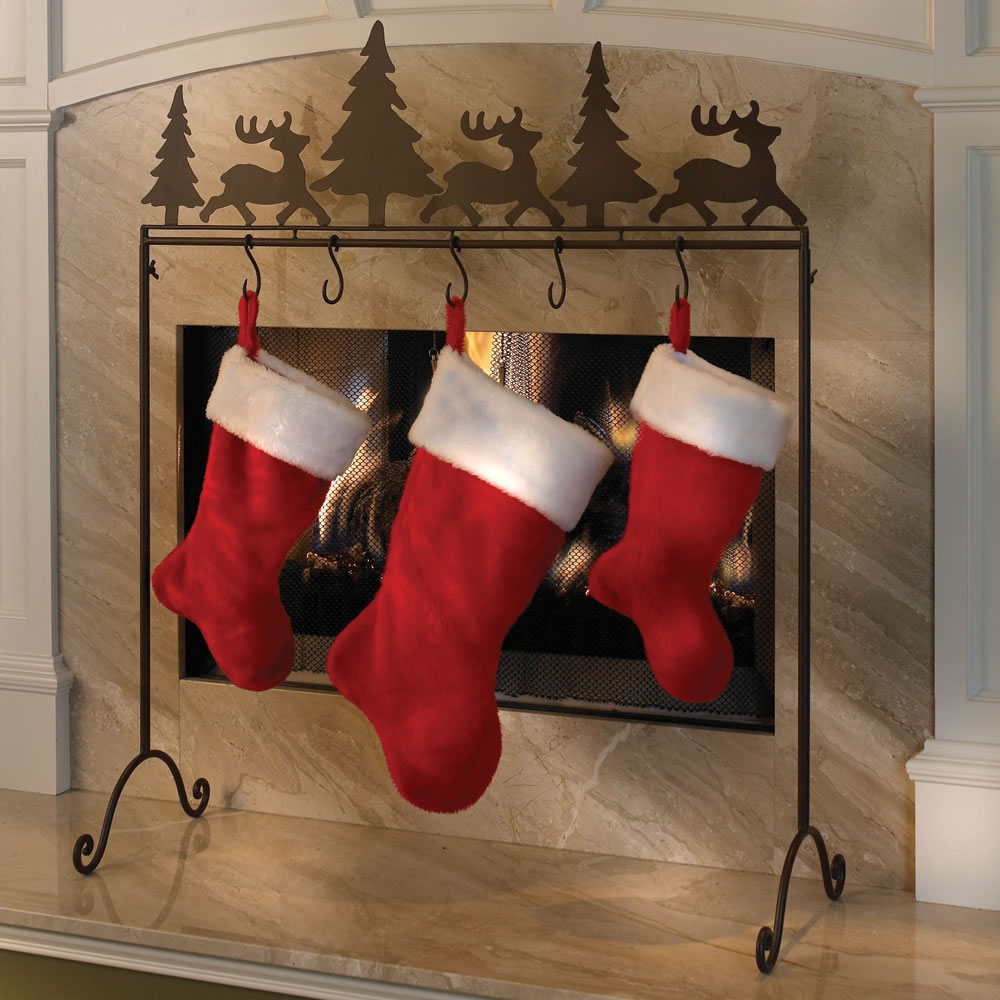 The Place Anywhere Stocking Holder
. More stable than hooks that perch precariously atop a mantel, this wrought iron stand safely displays Christmas stockings in front of a fireplace or anywhere in your home. The stand holds up to five fully loaded stockings or holiday decorations thanks to a sturdy base that won't tip. Its frame is hand forged from 1/2″ diam. wrought iron and has a protective powder coating that ensures it will last for generations. Three prancing reindeer and pines of different sizes along the frame's top add to its rustic charm. The hooks may be positioned anywhere along its top rail.