Now that we have stocked up with fun kitchen accessories.  A perfect addition is the beautiful book: Dinner, A Love Story.  Brought to you by the most adorable couple behind the blog: Dinner, A Love Story.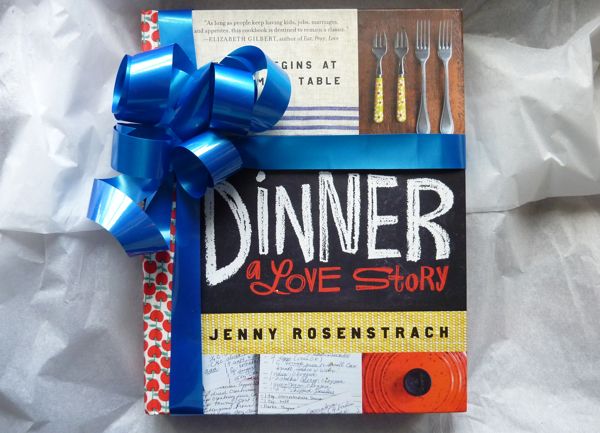 Jenny Rosenstrach, and her husband, Andy, regularly, some might say pathologically, cook dinner for their family every night. Even when they work long days. Even when their kids' schedules pull them in eighteen different directions. They are not superhuman. They are not from another planet.
With simple strategies and common sense, Jenny figured out how to break down dinner—the food, the timing, the anxiety, from prep to cleanup—so that her family could enjoy good food, time to unwind, and simply be together.
Using the same straight-up, inspiring voice that readers of her award-winning blog, Dinner: A Love Story, have come to count on, Jenny never judges and never preaches. Every meal she dishes up is a real meal, one that has been cooked and eaten and enjoyed at least a half dozen times by someone in Jenny's house. With inspiration and game plans for any home cook at any level, Dinner: A Love Story is as much for the novice who doesn't know where to start as it is for the gourmand who doesn't know how to start over when she finds herself feeding an intractable toddler or for the person who never thought about home-cooked meals until he or she became a parent. This book is, in fact, for anyone interested in learning how to  make a meal to be shared with someone they love, and about how so many good, happy things happen when we do.