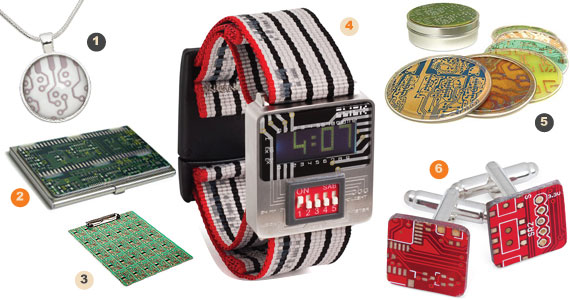 You might be surprised how many people you know fall under the electrical circuitry geek category.   Friends into computers, Electrical Engineers, Audio Engineers, gamers and anyone into electronic gadgets can be circuit geeks.  There's just something about a circuit board that makes their eyes twinkle.  Here's a list of goodies that lets them show the world just how much they like technology: 1. White Circuit Trace Necklace, 2. Circuit Board Business Card Case,  3. Circuit Board Clipboard, 4. Click Dip-Switch Watch, 5. Circuit Board Coasters, 6. Circuit Board Cufflinks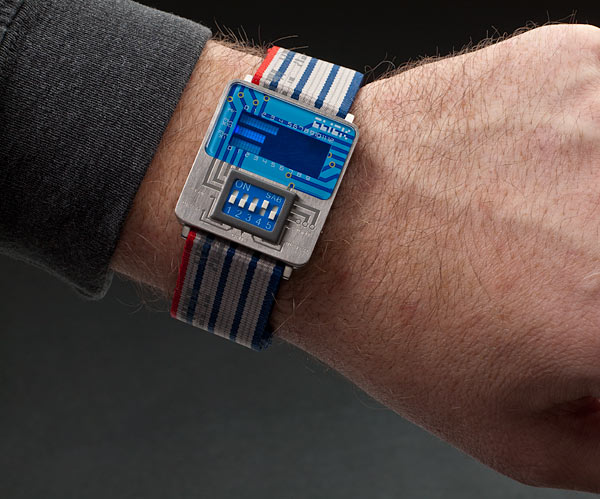 The Click Dip-Switch Watch allows us to embrace the glory days of arcade gaming and have it embrace us… on the wrist. The dip switch was used in arcade games to store settings back in the days before RAM. We love the ingenious way dip switches are used to show the functions of this digital watch. Each dip switch activates a different function of the watch, from bar graph metered time display, 12 hour and 24 hour digital time display, month, date, day of week, and backlight. The strap even looks like electronic ribbon and it comes packaged in an actual circuit board.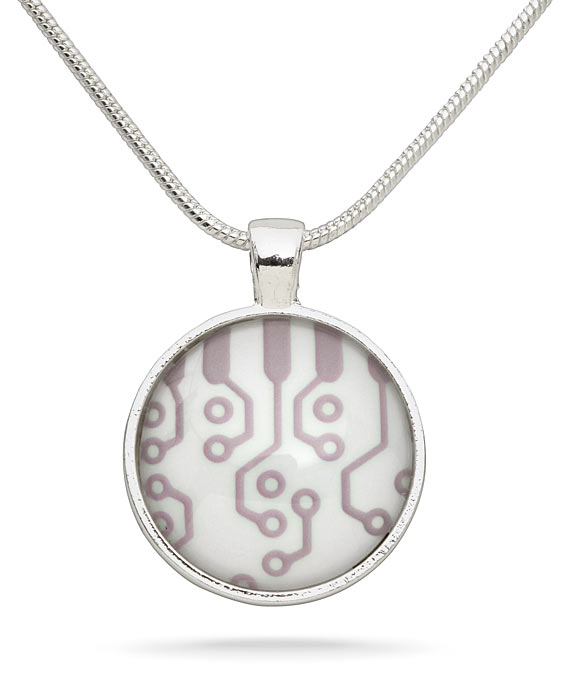 White Circuit Trace Necklace: Objects under glass make us think of museums. Butterflies. Fossils. Old manuscripts. Tapestries. Fluorescent minerals. The specimen under the glass in this pendant was inspired by the design of stick-on circuits. A way to showcase things that matter to you (like circuits) under glass in your own human-sized museum.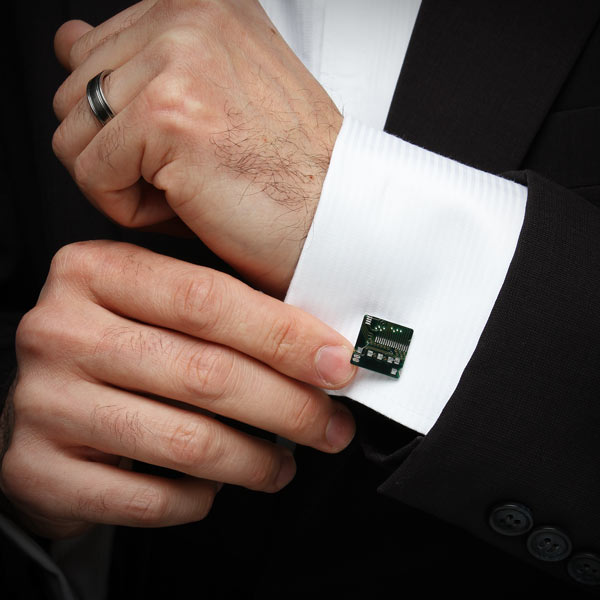 Wear your geek on your sleeve with Circuit Board Cufflinks. Cut from surplus computer circuit boards, they allow you to show off your geek cred at whatever event you had to go to that involves cuffs.  Since these are made from upcycled parts, each is unique.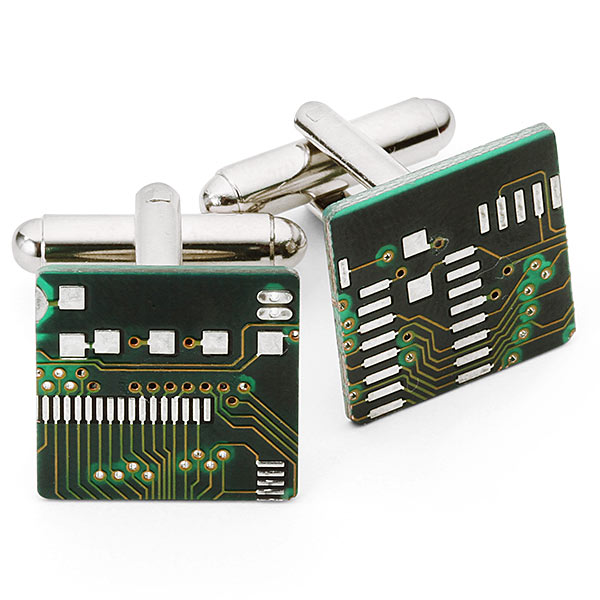 These upcycled circuit board cufflinks come in a small jewelry box.  They are a great groomsman or graduation gift.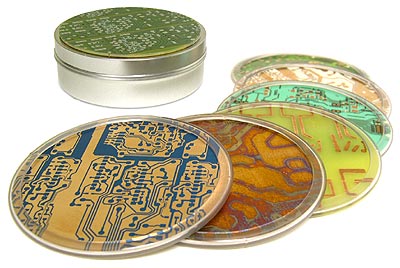 A High Tech Horizontal Beverage Containment Device. Slap your favorite perspiring bottle of beer on these Circuit Board Coasters without the kind of hesitation you might have if it was your motherboard! Great for office, dorm, or even home use…  These tube coasters provide the perfect cushion for your favorite beverage. A set of six assorted colored circuitboard coasters comes in an attractive tin with a circuit board top.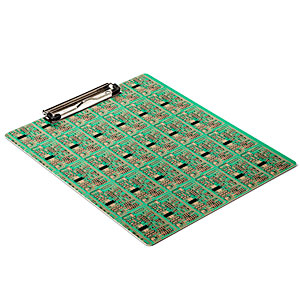 For Those Who Still Use Pen & Paper: a Circuit Board Clipboard.  These old motherboards have been converted into convenient and very sturdy clipboards in which you can rest assured all of your 'action items' will be safely recorded. We leave it up to you to decide whether or not the notes you take end up in a shredder or a trash can.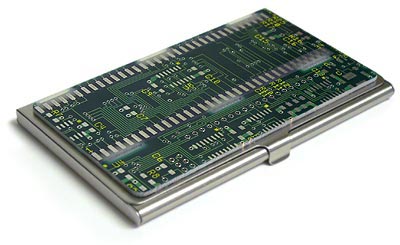 Use that first impression to show your technological sophistication.  This saavy Circuit Board Business Card Case with its techno-appeal will make you the envy of all your peers.