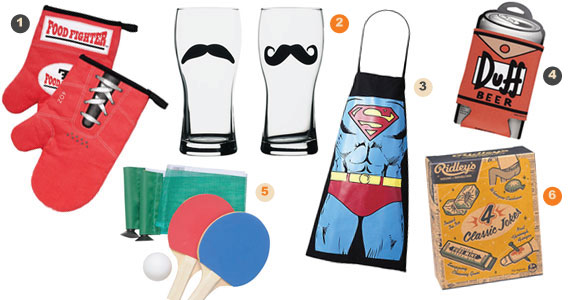 With Father's Day creeping up on us, we decided to round up some manly gifts we discovered recently.  These products are testosterone charged and would work for other manly occasions including birthdays: 1. Boxing Gloves Hot Mitts
, 2. Moustache Beer Mugs – Set of 2
, 3. Superman Apron
, 4. Duff Beer Koozie
, 5. Desktop Ping Pong
, 6. Ridley's Box of Jokes
Boxing Gloves Hot Mitts: These hot mitts are made for the tough guy in the kitchen! Strap on your boxing gloves and get ready for a TKO against your next casserole or roast.
Moustache Beer Mugs – Set of 2: Moustache beer mugs are a stylish way to sip your favorite brew. Curl your upper lip or keep it straight, either way you go your beer will look and taste great!
Superman Apron: Your man of steel may not don a cape, but he'll sure look buff wearing this apron in the kitchen! Features back tie closure and 11″ neck strap. One size fits most.
Duff Beer Koozie
: Who needs a craft brew when you can enjoy Homer Simpson's beer of choice (or at least pretend you are) with this cooling Duff Beer cozy. Fits standard beer cans.
Desktop Ping Pong
.  Does your Dad need a break at work? Pull out this desktop ping pong set at lunch and challenge away – hey, it's great stress relief, but you might want to let your boss win. Comes with 2 paddles, 1 ball, and a portable net with suction cups.
Ridley's Box of Jokes: this set of 4 classic jokes is fun for all ages! Includes all your favorites: a whoopee cushion, nail through finger, insect in an ice cube, and snapping chewing gum. Packaged in a retro style box, it makes a charming gift.