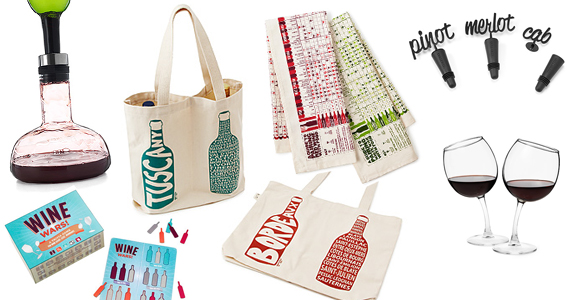 I am not much of a wine drinker. Nonetheless, I can spot gifts, which wine drinkers will appreciate.  For example, I could not pair a wine with the appropriate meal to save my life.  A pair of wine pairing cheat sheet tea towels can solve this dilemma for a wino or beginner.  Here are some other amazing wine related gifts: 1. Wine Pairing Towel Set
, 2. Double Wine Tote
, 3. Sedum Terrarium Bottle
, 4. Tipsy Wine Glasses
, 5. Wine Wars Trivia Game
, 6. Wine Breather Carafe
, 7. Corkcicle Wine Toppers – Set of 3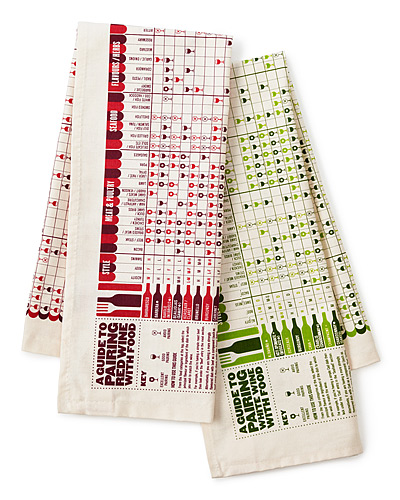 Wine Pairing Towel Set
. Whether you're popping the top off your best vintage or just the wine of the month you'll be sure to select your vino du jour's most fitting fare when you consult these clever cloths. Featuring two separate red and white guides, these easy-to-follow organic cotton tea towels are perfect for those new to the world of wine but comprehensive enough to please the palate of any seasoned oenophile (that's a wine lover!). Simply select your bottle or your meal and then follow the grid: each towel covers 68 popular wines, with each one rated against 56 different foods; that makes 3808 possible pairings! Pairings are rated excellent, good or best avoided so you can become the sommelier of your own kitchen and rest assured that you'll never make an unsavory foodie faux pas! Foods are grouped into 7 categories and you'll also find additional information on acidity, body, tannins and sweetness for each wine listed.
Double Wine Tote
. Even if you can't take a trip through the rolling green fields of France's wine country or Napa Valley's scenic vistas, you can still carry some of that beautiful land with you wherever you go. Pack up your favorite vintages with extra joie de vivre in these handy, wine region bottle totes. Each cotton canvas bag is emblazoned with two bottles, one bearing the name of one of a key wine district, and the other listing the historic towns within it or featuring a simple map of the region. The double compartments allow you to carry two bottles with one hand, and without them bumping together and risking damage. The totes also make thoughtful housewarming or hostess gifts. Husband and wife team Rachel Rheingold and Michael Berick produce these bags using US-grown cotton. All cutting, sewing and printing is done in Brooklyn, NY.
Sedum Terrarium Bottle
. Grow a little green oasis in your life, whether it's at your busy workplace or in the quiet of your favorite reading nook. This terrarium kit contains all you need to grow a blend of dwarf sedum—a kind of pint-sized, easy-care greenery that offers intricate paths for your imagination to wander. Your little biodome is made from a repurposed wine bottle, and rests on a base of bamboo chopsticks that double as tools for tending your tiny garden.
Tipsy Wine Glasses
. You know that moment on a pleasant evening with friends, when the room starts to feel a little more relaxed, the conversation a little more entertaining, and your worries a bit farther away? Well, these tipsy wine glasses are already there. Why not join the fun yourself, with this pair of 12oz. bent stem glass goblets. In spite of their inebriated appearance, their base is built wide enough to help keep them standing securely upright.
Wine Wars Trivia Game
. From the creator of Foodie Fight, Wine Wars is a fun and fascinating trivia game that tests your knowledge of the fruit of the vine. The battle begins as players answer questions in categories such as Vine to Vino (growing grapes, making wine, and world production), Wine Cellar (selecting, storing, and tasting wine), and Cork Culture (wine people, business, arts and science, and trivia). Perfect for those new to the world of wine, but challenging enough for the devoted oenophile, Wine Wars will have you swirling, sniffing, and sipping your way to vinicultural victory.
Wine Breather Carafe
. Wine connoisseurs and fans of elegant design alike will love using this aerating wine carafe. Simply press the decanter onto the top of an opened bottle of wine and flip it over so that the wine pours into the decanter. You can serve the wine from the decanter, or flip it back over once it's done and pour the aerated wine back into the bottle and serve from the original bottle. Made with glass, steel, rubber and plastic. The patented wine breather forces the wine to glide along the sides of the carafe in order to quickly and effectively aerate the bottle in one pour.
Corkcicle Wine Toppers – Set of 3
. At your next get-together, don't just pop a cork from your favorite vintage—add some visual pop as well! These interchangeable toppers for your wine-chilling Corckcicle both identify your wines at a glance, and transform your bottles into an eye catching centerpiece. Available for either white or red varieties, each set comes with three toppers that screw right into the top of the Corkcicle. They also come with a rubber stopper to stand alone and add an element of whimsy to the table. These sets make a great accent at your wine tasting, or a special gift for a wine-loving friend.