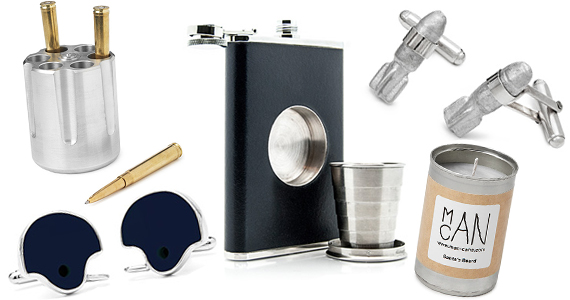 Are you looking for a gift for your very own macho man?  We've got you covered.  Here is a list of gift ideas that will let them know you are aware of their manly needs including man approved scented candles.  Apparently, only females appreciate the scent of lavender while tough guys prefer the scent of Santa's Beard.  Who knew? 1. Sterling Silver Peace Bomb Cufflinks
, 2. Revolver Pen Holder
, 3. Game-Used College Football Helmet Cufflinks
, 4. Santa's Beard Man Candle
, 5. The Shot Flask
, 6. Duello Gun Bookends
Sterling Silver Peace Bomb Cufflinks
. These cufflinks are not only a heat-seeking fashion statement, they are also helping to trigger positive change in the world. Carefully loaded into sterling silver cufflink hardware is a pair of tiny bombs, each crafted in Laos from reclaimed scrap aluminum. The Laotian tradition of working with scrap metals began in the 1960s as the United States conducted an extended bombing campaign in their effort to contain Communism in South Asia. An estimated 250 million American bombs were dropped in the region over a 9-year period. Attempting to restore order in their lives, the Laotian people began gathering the discarded metal from mortar and flare launchers, spent ammunition magazines and more, and recast them into spoons and other domestic tools.
Revolver Pen Holder
. Think before you shoot, er, write with this heavy duty pen holder modeled off the barrel of a gun. A reminder of the power of the written language and the harm it can cause, the revolver pen holder is hand carved from a single piece of aluminum by industrial artisans in Mexico.
Game-Used College Football Helmet Cufflinks
. Gear up for an exciting day at the office with authentic football helmet cufflinks that let you go head-to-head at work and on the town. A piece of sports history, each collector's pair celebrates your favorite team with game-played helmets. Cufflinks feature sterling silver findings with the school name stamped on the back. Each pair comes gift boxed with a certificate of authenticity. Handmade in the USA and Mexico of sterling silver. Finishes may vary due to the age and uniqueness of each game-played helmet used to create this item.
Santa's Beard Man Candle
. If you think about it, Santa Claus was the original Man's Man. He's always working in his shop, he enjoys roughing it in the northern wilds, and he drives an earth-friendly, all-terrain vehicle with all the bells and whistles. This candle is a manly salute to Santa's crowning glory: his full, bushy beard. Its scent evokes the sawdust-y warmth of the North Pole workshop, the clean scent of powdery snow, and the sweetness of fresh holiday cookies. Man Cans were invented by 15-year-old Hart Main, who wanted to develop scented candles that guys could enjoy. He donates food to a local soup kitchen, and then uses the empty cans to hold his extraordinary scents.
The Shot Flask
. Top shelf, bottom shelf, or anywhere in-between, nothing makes drinking spirits into an event like knocking back the hard stuff with a celebratory shot. Now, the same streamlined silhouette that makes the classic flask your best drinking buddy is made all the better with a built-in shot glass in this cheers-worthy combination. Your on-the-go vodka, gin, bourbon, or rum will look dapper in this five-ply stainless steel body bound in faux bonded leather that slips covertly into your bag or back pocket. What appears to be a handsome embellishment in the center of the vessel is actually a collapsible 2 ounce shooter that can be put into action with a simple twist. Equal parts handsome and cool, this two-in-one traveler is bound to be the toast of the tipples for your anyone who enjoys their spirits neat, in more ways than one.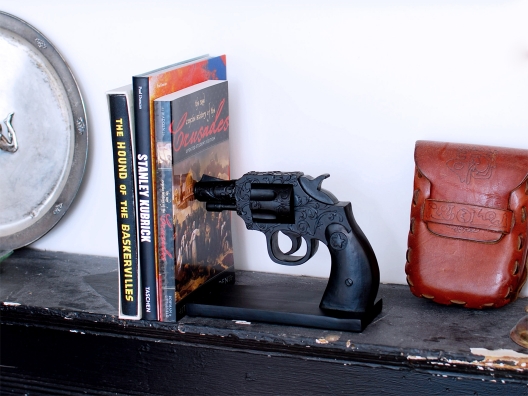 Duello Gun Bookends. Inspired by the quick draw duels made famous by the spaghetti westerns of the silver screen. This dueling duo is the perfect accessory to any study or saloon.