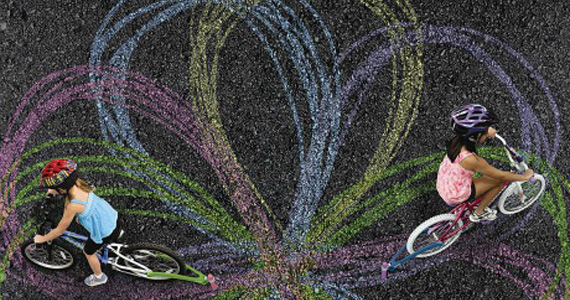 I have many young nephews, nieces and cousins tumbling around, so I am constantly on the lookout for creative gifts for kids.  It's easy to get them a cute plushie and there is nothing wrong with that.  Kids can never have enough cute plushies.  However, I like to give them something that will spark their imagination, get them outside playing or the beginning premise for a new adventure.  Here is a list of my top imaginative gifts for the little ones: 1. Bike Chalk Trail Kit
, 2. Animal & Monster Hand Tattoo Sets
, 3. Make Your Own Kaleidoscope Set
, 4. Coal Gum
Animal & Monster Hand Tattoo Sets
.  A fun new take on hand puppets, these delightfully designed tattoos transform any hand into a wide-eyed animal or a colorful monster.  Two sets of eight animals includes bird, shark, zebra, giraffe, cow, alligator, tiger and bumblebee.
Make Your Own Kaleidoscope Set
. Encourage your kids to see stars through their own handiwork with a buildable kaleidoscope that shines mesmerizing webs of color at the turn of its scope. Part art project, part construction task, the Make Your Own Kaleidoscope Set offers an engaging way for young minds to cultivate composition skills while building a timeless keepsake. Like a personal treasure spinning geometric swirls, each one-of-a-kind craft will have your child marveling at their work and imagination. Set comes with everything needed–from glitter to glue–and easy-to-follow instructions to build your very own kaleidoscope. Includes cardboard tube, plastic mirror pieces, assorted beads and rhinestones, adhesive paper, foil confetti, craft glue and instructions.
Coal Gum
. The kids were warned about that whole "naughty or nice" thing, but they just didn't believe it. Have a little fun at their expense and slip this box of "coal" in their stockings for a Christmas morning surprise. The sweet bubble gum will eventually erase the taste of fear from their mouths, but maybe next time they'll be more likely to listen.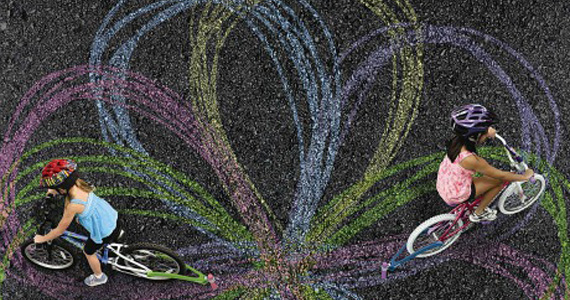 Bike Chalk Trail Kit
. Two timeless outdoor activities — biking and coloring with sidewalk chalk — are drawn together, at last. Active artists, from big kids to training wheelers, can set up their portable studio all by themselves by simply snapping the adjustable chalk holder onto their bike's back wheel. A set of wheels and the Chalktrail Kit (with the Chalktrail and chunky non-toxic, washable chalk pieces included) are the only supplies needed for creative kids to color their world for miles of smiles. While a solo rider will have a blast turning the open road into their canvas, coloring outside the lines is made that much more fun with friends! Races and games of their own imagining result in collaborative pictures, patterns, and bold new opportunities for artistic expression.