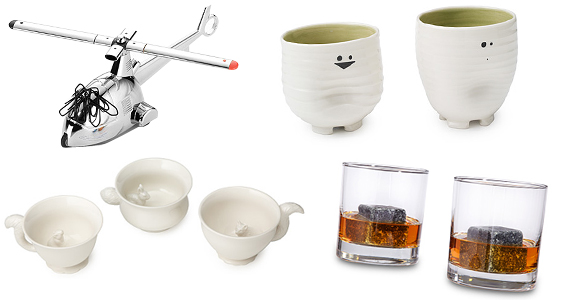 Don't fret about finding a Holiday gift for your boss.  I've been there and it feels like everything you pick might send the wrong signals.  You definitely do not want to send mixed messages to the person that holds your paycheck in their hands.  Lucky for you and I there are some real easy safe bets when it comes to your boss and Holiday shopping.  First of all, any type of mug will do.  It doesn't matter if they drink coffee or not.  If they are human they will be consuming some type of beverage through out the day and you've got them covered!  Here are some other ideas (including some cool mugs): 1. Hidden Animal Mugs with Tails
, 2. Helicopter Mechanical Paperweight
, 3. Squishy Mugs – Set of 2
, 4. Whiskey Stones Double
Hidden Animal Mugs with Tails
. Keep coffee time full of surprises with Ange-line Tetrault's extra-roomy ceramic mugs that hide an adorable animal figurine inside each cup. Like china from a fairytale, each bright eyed and bushy tailed bowl is sure to bring whimsy to every steamy sip.
Helicopter Mechanical Paperweight
. Nothing hones your productivity like an executive aircraft, equipped with all the tools you need to fly through paperwork. German designer Herve Houplan's Desktop Helicopter features four different colored ballpoint pens (black, red, blue, orange) disguised as the rotor, and a magnetic cockpit for collecting paper clips (five starter paper clips included). Plus, a friction motor lets you pull it back a few inches to send it zooming through your workday. With its chrome form and function, it's sure to help you land — and maybe even a new client (or two). Includes five starter paperclips.
Squishy Mugs – Set of 2
. Can something be aggressively adorable? We think so. With their puckered faces and pre-scrunched grooves, Squishy Cups mercilessly squash everything you thought you knew about cuteness. Their irresistible squishy forms will tug on the heart strings of even the most conservative lady or gent, making them beg to kiss those tiny, close-set features. When your eyes fall on the tender, sweet and downright disarming Squishy Cups, you'll gladly surrender yourself to the cuteness cause.
Whiskey Stones Double
. Skip the ice; Serve your drinks on the rock! These innovative soapstone cubes were designed by Andrew Hellman, a big fan of single malt scotch, who wanted to chill his spirits without diluting them. After finding a bag of loose stones in his Swedish grandfather's liquor cabinet, he came up with his own interpretation of this centuries-old Scandinavian tradition, but with his own distinctly American twist. After doing some research, he came up with the idea of using natural Vermont soapstone as his drink chiller due to its softness (which won't scratch glasses) and its unique ability to maintain a frosty temperature for an extended period. These extra-large chillers are sourced from the oldest soapstone workshop in the USA. Simply freeze and drop one in your next dram, let it stand for 5 minutes, and enjoy!