If your valentine likes to attend comic conventions, binge on anything Nathan Fillion related on Netflix, owns a Star Wars collection or has a cuteness obsession, your valentine just might be a geek. Regardless of her geekyness levels, she will be excited to receive any of the goodies below for Valentine's Day. Seriously, who wouldn't appreciate a bouquet of plush kittens?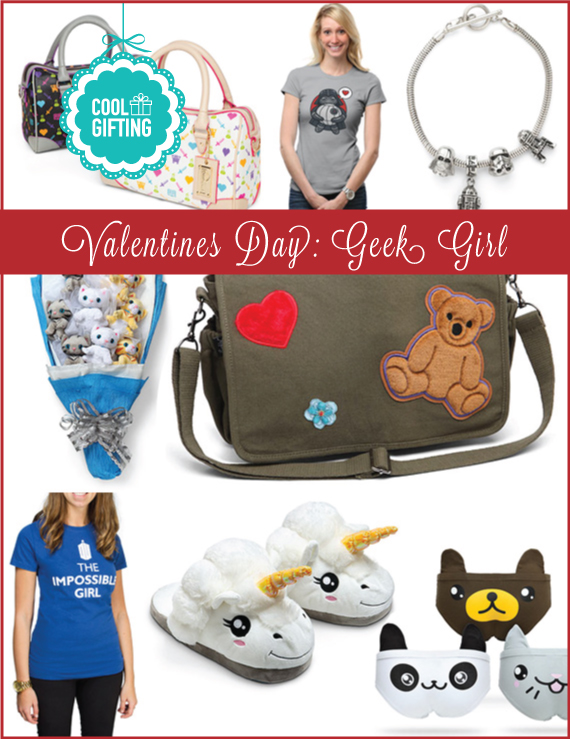 For Gamer Girls: This satchel-style handbag features a fashionable, repeating pattern of sprites in neon colors: 8-bit swords, hearts, robots, flasks, and books – basically all our favorite things. Colorful and quirky, the bag comes in black faux leather with grey trim and plum details with chromed hardware or white faux leather with tan trim and hot pink details with gold-colored hardware. It's a kitschy, stylish bag that will level up your already epic style.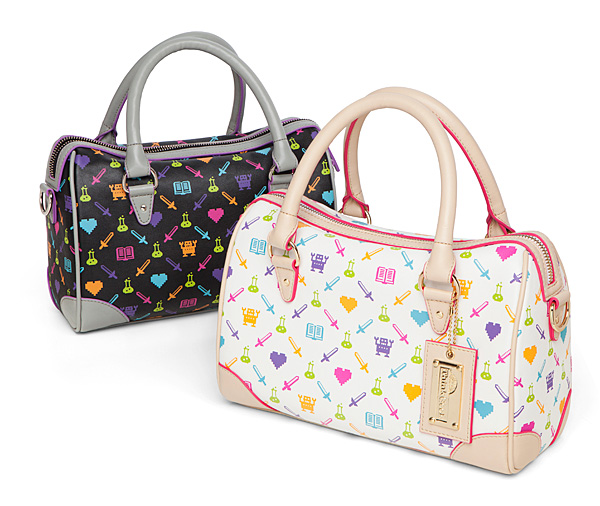 For Star Wars Fans:Lookit little, adorable Vader. He's so cute. And look, he's got a little Death Star. Awwww. We don't have the heart to tell him it's going to be destroyed due to an extreme design flaw only to be replaced by a new model, which will also be destroyed. Because that would make cute Vader sad. Actually, sad cute Vader would also be pretty cute. Ok, we'll tell him.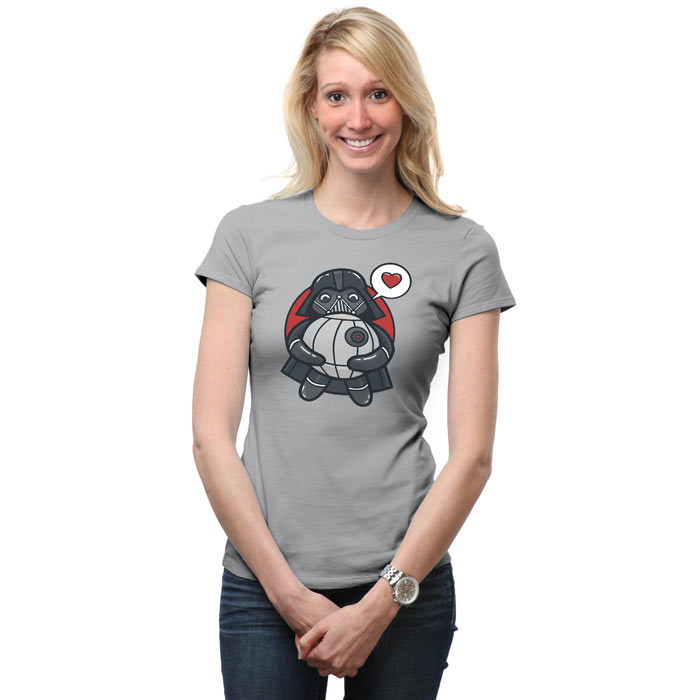 For Star Wars Fans: You might want multiple Star Wars beads, and it'd require at least 5 clicks in our current interface to get more than one, so we built out a page with all of them on it. Choose Darth Vader, R2-D2, dangle R2-D2, a Stormtrooper, a leather bracelet, a silver bracelet of three different lengths, or a set: dangle R2-D2, a Stormtrooper, and Darth Vader; R2-D2, a Stormtrooper, and Darth Vader; or a Stormtrooper, Darth Vader, and another Stormtrooper.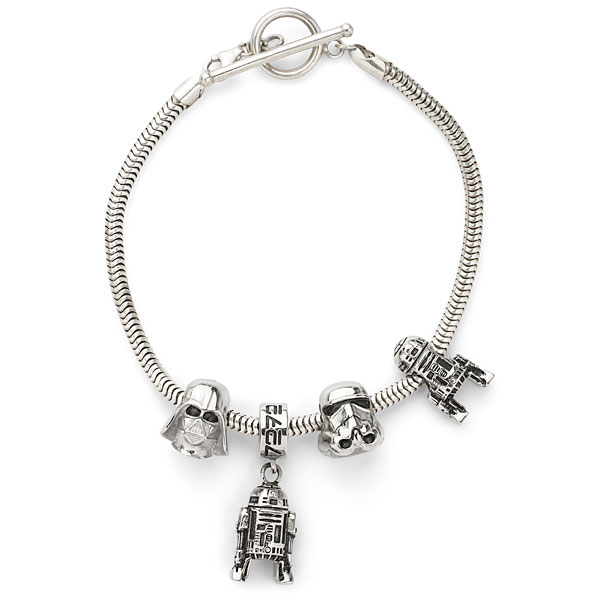 For Firefly / Serenity / Nathan Fillion Fans: Kaywinnit Lee Frye is one of our absolute favorite fictional women. She's got smarts, she can fix just about anything mechanical, she's sweet and friendly and honest (sometimes too honest!), and she can rock oily coveralls or a pink foofaraw. This messenger bag was inspired by Kaylee's work outfit: the oily coveralls and bright floral top. The bag is made of green canvas and features the same patches from Kaylee's coveralls: a brown teddy bear, a red heart, and a blue flower. The lining of the bag is floral. There are two side pockets, two pockets under the front flap, and four small pockets that line the interior, so you can fit in your strawberries, spare engine parts, and that thing what runs on batteries.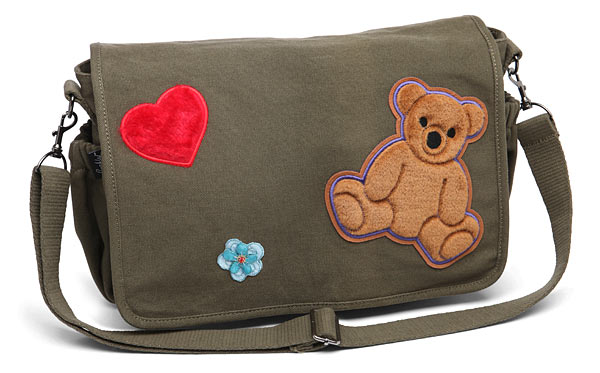 For Cat Ladies: We've never understood why tradition dictates that we give soon-to-be-dead flora to the person we hope to have around for a forever-and-ever relationship. It's really silly if you think about it. We'd much prefer a potted plant that we can see grow year after year or a kindle of kittens. This Plush Kitten Bouquet comes with 9 "longstem" cats: 3 orange tabby, 3 grey tabby, and 3 white. That's a total of 81 lives between them! The kittens are attached to their "stems" (wooden dowels) by the back of their collars and are easily removed. We can tell you that these little guys are less than 8 weeks old, because they all still have bright blue eyes. They never go outside the litterbox, and they don't leave fur on everything. Plus, this bouquet is guaranteed to be 100% less squirmy than actual kittens.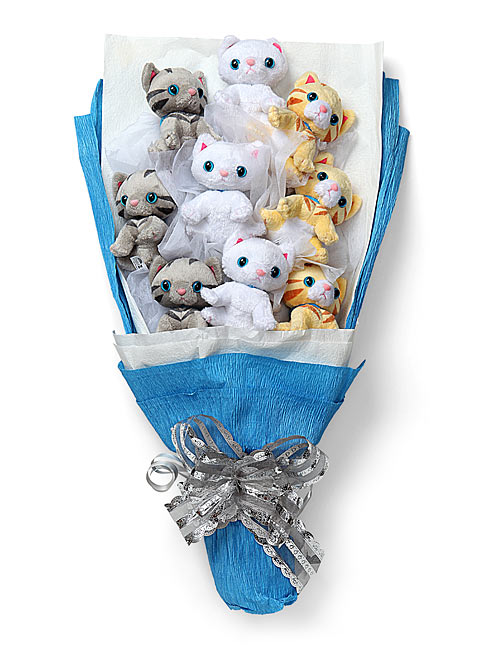 For Unicorn Lovers: Plush Unicorn Slippers are as cozy and warm as they are adorable and magical. Slide your feet into the unicorns and your morning routine will be more pleasurable. Brushing your teeth? Fun! Flossing? Easy! Styling your mane? Beautiful every time! Coffee? Perfectly brewed. Breakfast? Delicious. See what you're missing without unicorns on your feet? Get your magical footwear today!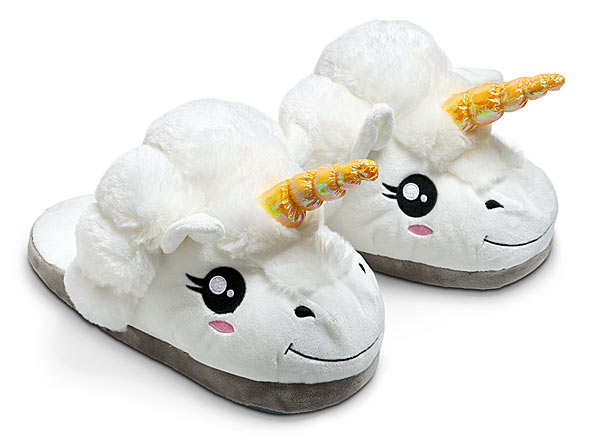 For Kawaii Lovers: A bear, a panda, and a cat… no, not the beginning of a joke; these are the animals that decorate the back of these panties. One animal per pair. And because animals need to hear what's going on, each pair has ears, too, which rise up above the waistband.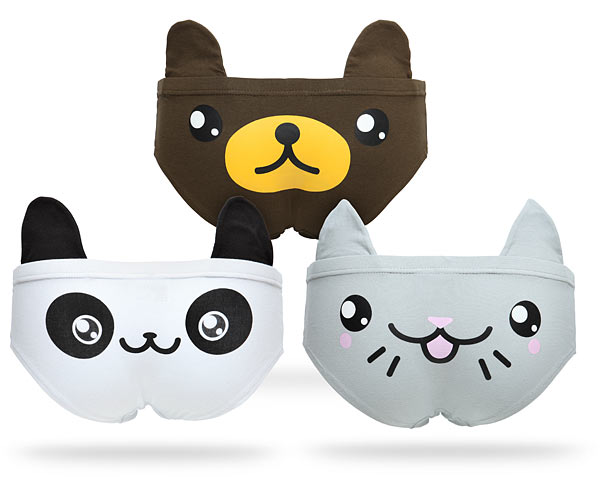 For Doctor Who Fans: The Impossible Girl in white ink under the new DW TARDIS-shaped logo on the front of this blue, 100% cotton ladies' fitted shirt.