Easter is another Holiday turned into a candy eating fest. This year, you can make an Easter basket with some amazing goodies from Williams Sonoma. Williams Sonoma has teamed up with some of the best chocolatiers, confectionaries, and bakeries around the world to make some amazing goodies to fill up your Easter baskets. They usually do this during holidays and I am always excited about what they put together. I wish it was my job to curate their holiday food collections. Can you imagine tasting desserts from the best places to pick the best ones? If they are looking to add people to that team, I volunteer.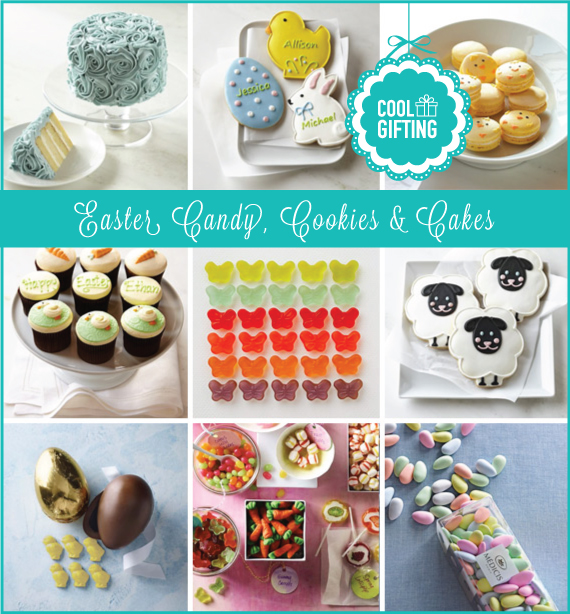 If I was having a massive Easter egg hunt or party I would get one in every color. Imagine a dessert table full of these beautiful cakes. It would look phenomenal. If your responsibility is to bring dessert to the Easter gathering, this is the cake to bring. It looks stunning and I am sure those four layers of cake with frosting also taste delicious. The green cake would also be the perfect dessert for this St. Patrick's Day celebration. I don't see green cakes that often, and when I do, they don't look as good as this one.
These personalized cookies are the perfect gift for Easter. These cookies are sold in sets of three and each set includes a bunny, chick and Easter egg; and you can add a custom message on each cookie. These cookies would also be fun party favors with the guest's names. Easter mini cookies are also available.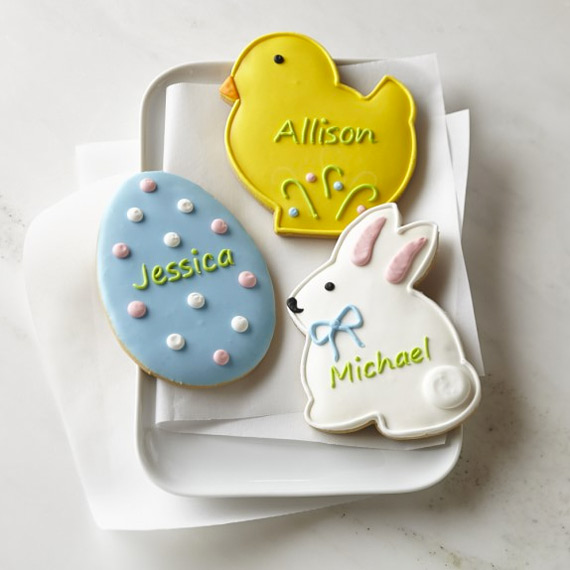 Macarons, who doesn't love them? They are definitely one of my top desserts. They are up there with creme brûlée. However, these adorable macarons have been taken up a notch; they look like chicks! They are perfect for your Easter dessert table. The best type of decorations are always themed food because they are cute and edible. You can't beat that.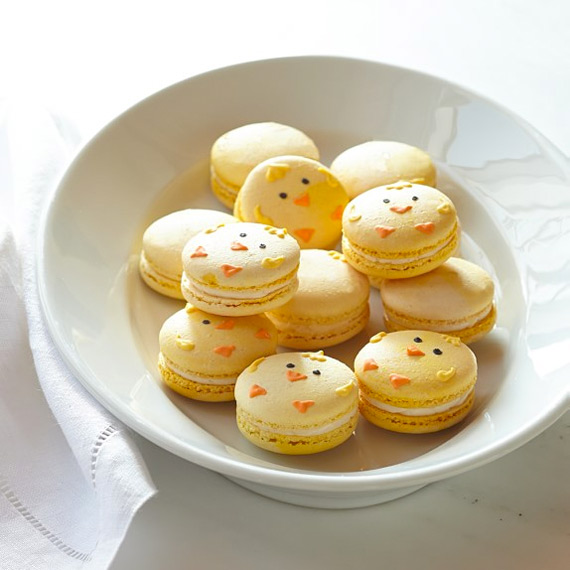 Sheep are cool because they are poofie and have sweet faces. I like these sheep cookies in particular because of their little smiling faces. You can order them in sets of three to decorate your dessert table or add to your Easter basket. Anyone would be happy to get these cute cookies – especially the little ones.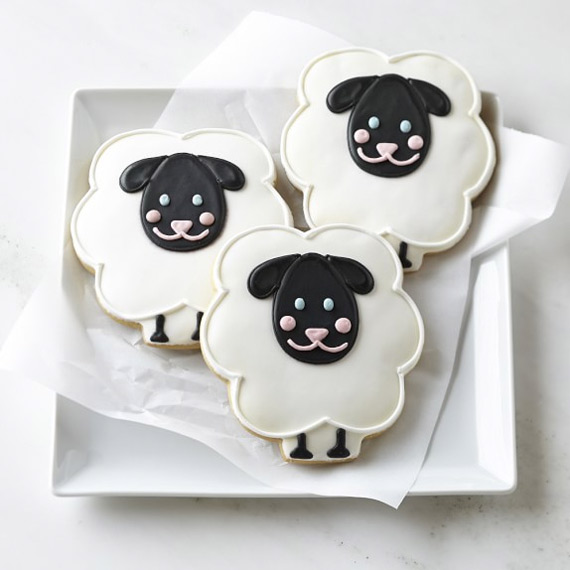 If you rather stick to cupcakes because you prefer skipping the hassle of cutting the cake and the chaos that comes along with it, you might as well get personalized cupcakes. These Easter themed cupcakes come in sets of nine and allow you to add custom messages to the cupcakes. The text can be anything from words that match the theme like "Hop", "Happy", "Easter", "Bunny" and/or you can write your guest's name on these too.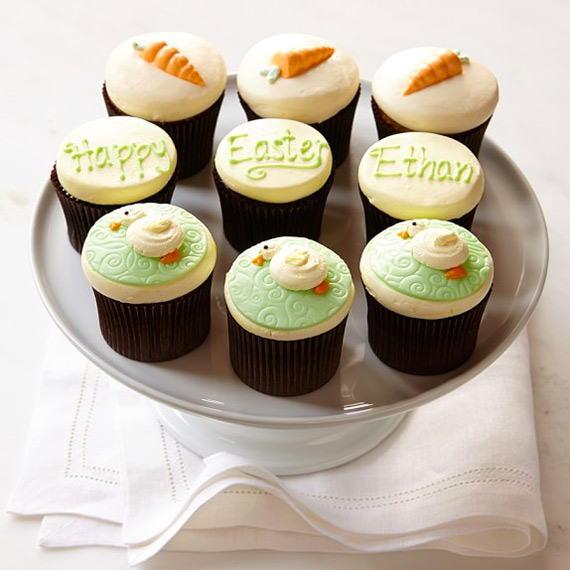 Oh they will definitely notice this massive egg in their Easter basket. Can you imagine ever finding this giant egg on your Easter egg hunt? There shouldn't be many. So that only a few children find this glorious golden foiled egg as a prize. This hollow milk chocolate egg holds white chocolate chicks inside.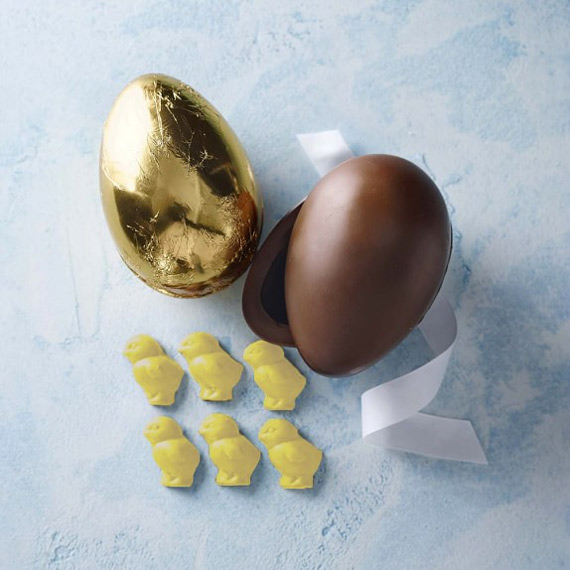 I love the pastel colors of these gummy butterflies. If you wanted to keep you easter basket within pastel tones we are on the right track. Add some of these fruity gummy butterflies to the easter basket instead of regular old gummy bears.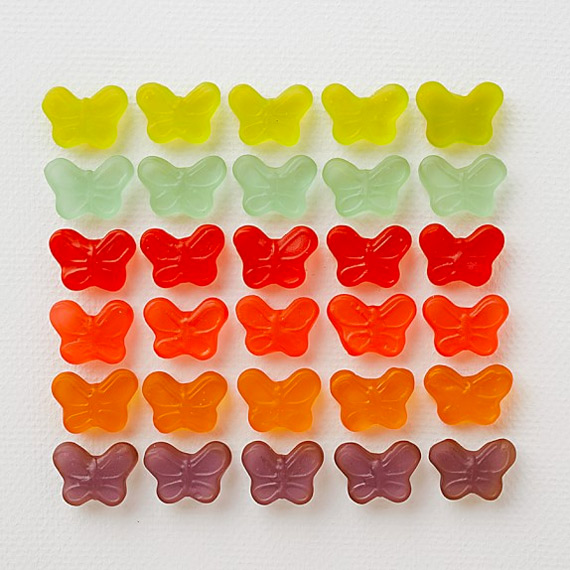 Bunnies love carrots and kids like gummy carrots. You can use them to decorate the Easter party. They can be food for the chocolate bunnies, decorate the cupcakes or cakes, or be fillers for the Easter basket.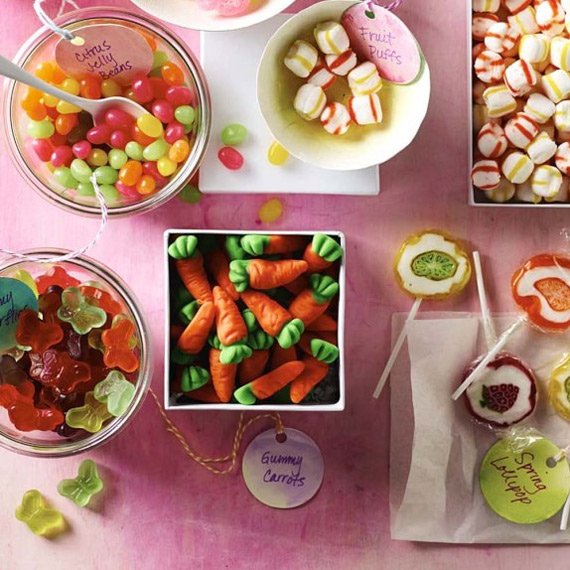 Glazed covered almonds look like tiny eggs. Use them to decorate, treat or eat.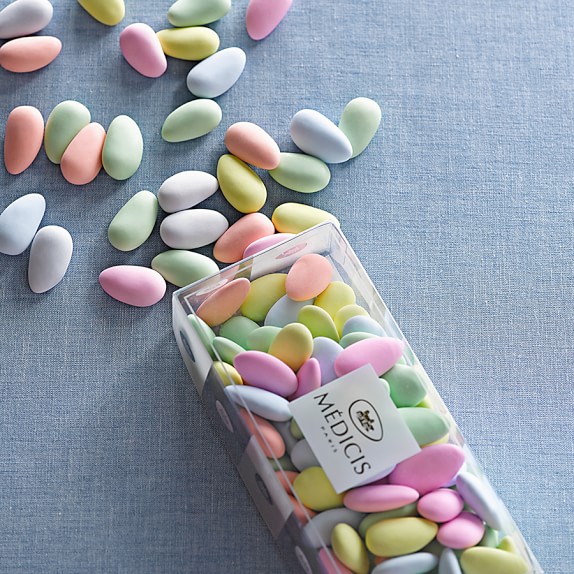 Change things up a bit by adding some sour gummies into the mix, sour gummy bunnies that is.