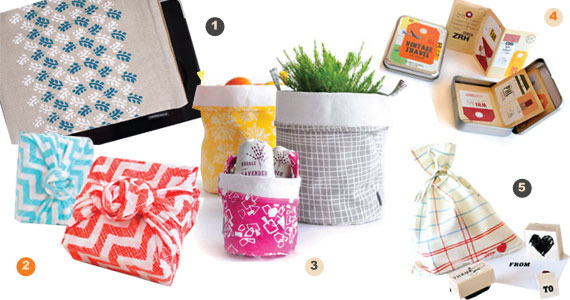 Chewing The Cud is a concept-driven design studio that designs a line of wedding stationery and textile-based goods. They aspire to surprise, delight and inspire through exceptional design and uncompromising quality. All their products are created with utmost care and thoughtfulness, using eco-friendly sources of the highest quality whenever possible: 1. Sprouts Linen Pouch/iPad Cover, 2. Give Bliss Wrap, 3. Storage Bucket, 4. Luggage Tag Stickers, 5. Typographic Stamp Set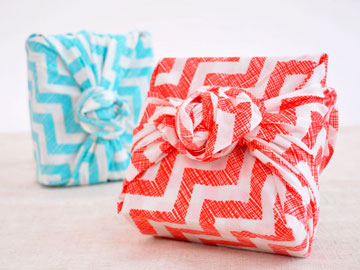 Give Bliss Wrap – Your gift presentation should be as meaningful as your gift. Each of Chewing The Cud's fabric wraps has a message: Give Luck. Give Love. Give Thanks.  All their wraps are printed on 100% organic cotton with soy-based inks.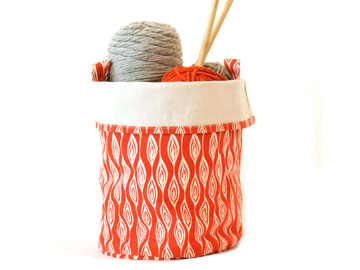 The Leaves Storage Buckets are great for display, gift presentation and storage.  They are also machine-washable.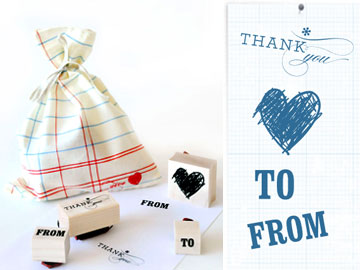 The Typographic Stamp Set features 4 wood-mounted stamps plus a mini bag.  Stamps include: To, From, Thank You and Heart icon.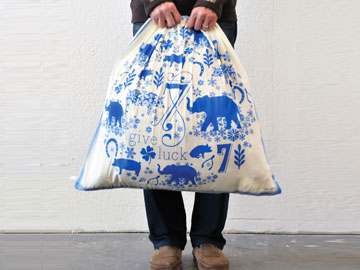 Give Luck Bag in Blue is a reusable bag that measure 28″ by 28″.  It features double drawstrings made of linen ribbon.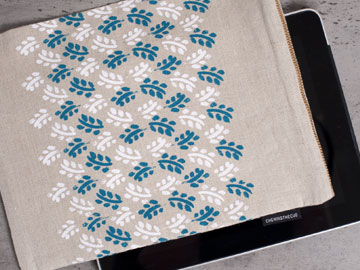 Sprouts dual-purpose zippered cases serve as ipad covers and pouches for loose items.  These pouches lay flat to fit an ipad or fold to form a double pouch. Features brass zippers on both ends and matching magnetic button.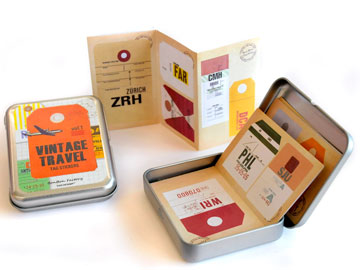 Luggage Tag Stickers  – An assortment of vintage luggage tag stickers packaged in a charming tin box. Great for crafting and DIY action!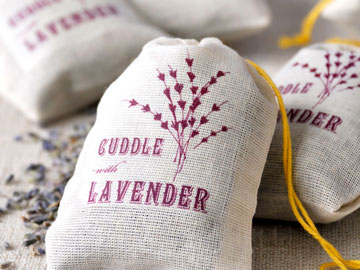 Cuddle With Lavender sachet contains high quality lavender from California. Place in your home or use as an insect repellant. Squeeze the sachet gently to release its fragrance.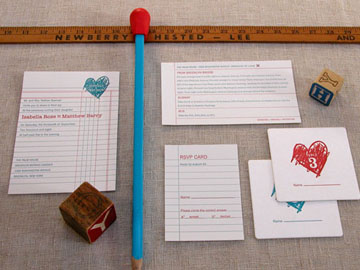 School Crush Wedding Invitations – Utilizing elements from classic school notebooks and papers, this playful suite brings back nostalgic memories of first love. This set fits snugly into a 7.25″ x 5.25″ envelope.  Each set includes an invitation card, an RSVP card, 2 printed envelopes.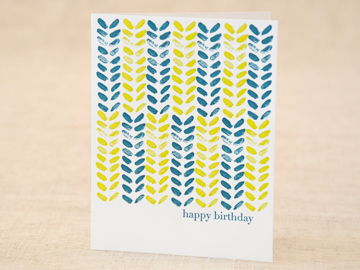 Happy Birthday Leaves is printed on 100% tree-free heavyweight paper using soy-based inks. It includes a Kraft envelope and is neatly packaged in clear cellophane.