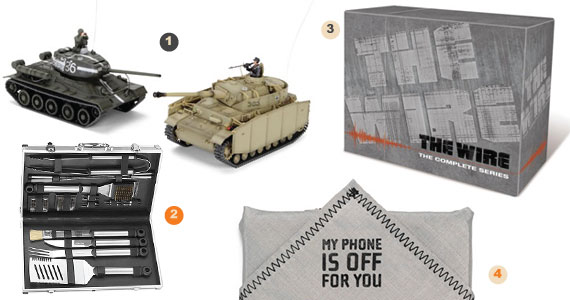 Here are a few ideas to get you started on your Holiday shopping gifts for Dad: 1. The Remote Controlled Authentic WWII Battling Tanks
, 2. BBQ Briefcase
, 3. The Wire: The Complete Series DVD
, 4. Phonekerchief
, 5. Felt Firewood Holder
, 6. On The Rocks Set
, 7. The Man Can Grooming Kit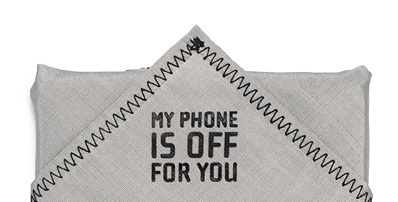 Phonekerchief
. Send the right signal by giving dinner partners your undivided attention with this innovative, service-blocking hanky made with silver fibers that effectively block incoming calls and texts. "My phone is off for you," says it all, so you can, too.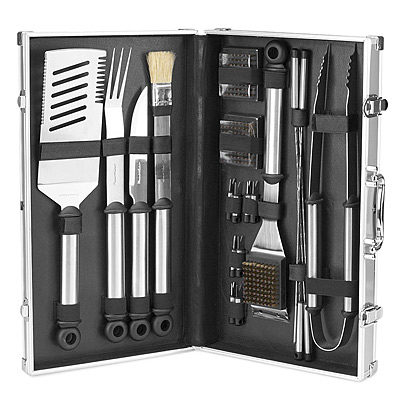 BBQ Briefcase
. Fire up a feast with this portable, grill-side case of 20 stainless steel utensils topped with heat-resistant handles. Perfect for the on-the-go grill master, this traveling case transforms day trips, parks and backyards with its fully-equipped set of flame-retardant cooking tools. Whether you're flipping kabobs or charring fresh corn, you'll always have the right tool for the job. It's outdoor entertaining in a two snaps of its case.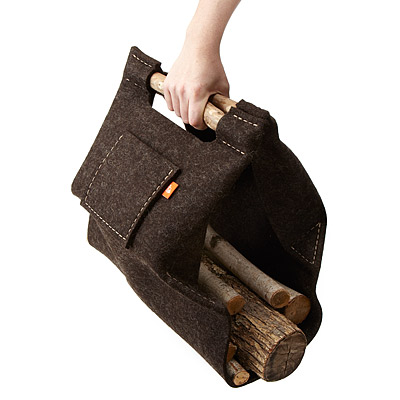 Felt Firewood Holder
. Lugging logs from the woods to your home has never been an attractive process. You know that you're going to get covered in dirt and pricked by splinters, but you just can't avoid getting a little dirty if you want to build a proper fire, right? Think again. Katja Falkenburger's hand-felted woolen firewood holder is stylishly stitched but sturdy enough to tote unwieldy wood piles with ease. Measuring over 1/4″ thick, this tough, 100% felted wool wrap is stitched into shape with delicate triangular accents and finished with hand-sanded spruce and beech wood handles. The carrier's side pocket provides the perfect place to stow matches, a lighter or a cellphone, so you can handle the heavy stuff with both hands if you need to.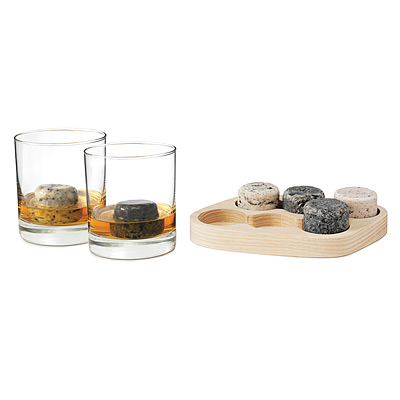 On The Rocks Set
. Serve your drinks on actual rocks with these handsome granite drink chillers. Hand-crafted from stones collected on New England beaches, these granite discs are ideal for chilling aged spirits, such as whiskey or scotch, because they won't dilute the complex flavors like a handful of ice. Simply chill the set. Drop two stones in 1 to 2 oz. of fine spirits, let stand for five minutes and enjoy. Set of six comes in a convenient hardwood tray for easy freezing and serving, with two tumblers to boot!
The Man Can Grooming Kit
. Everyone loves a man who's not afraid to get dirty and who knows how to clean up. Any rough-and-tumble guy can keep himself fresh, smooth, and smelling great at the end of the day with this full set of handmade skin supplies. This handsome gallon-sized container (complete with its own can opener which doubles as a bottle opener!) comes stuffed with everyday essentials like fresh-scented soap, shave gel, bay rum oil, hand butter, and an exfoliator. Made and assembled in the USA. Soap: Anise Oil & Blue Poppy Seeds Shaving Gel: Antibacterial & Antiseptic Essential Oils Bay Rum Oil: Citris and Spice Oils Hand Butter: Anise Oil.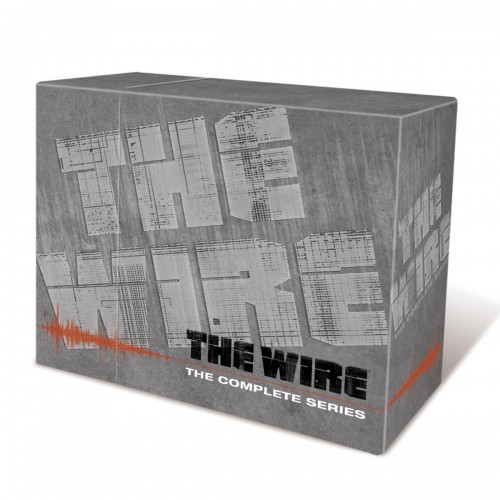 The Wire: The Complete Series DVD
. After one episode of The Wire you'll be hooked. After three, you'll be astonished by the precision of its storytelling. After viewing all 13 episodes of the HBO series' remarkable first season, you'll be cheering a bona-fide American masterpiece. Series creator David Simon was a veteran crime reporter from The Baltimore Sun who cowrote the book that inspired TV's Homicide, and cowriter Ed Burns was a Baltimore cop, lending impeccable street-cred to an inner-city Baltimore saga (and companion piece to The Corner) that Simon aptly describes as "a visual novel" and "a treatise on institutions and individuals" as opposed to a conventional good-vs.-evil police procedural. Owing a creative debt to the novels of Richard Price (especially Clockers), the series opens as maverick Detective Jimmy McNulty (Dominic West, in a star-making role) is tapping into a vast network of drugs and death around southwest Baltimore's deteriorating housing projects. With a mandate to get results ASAP, a haphazard team is assembled to join McNulty's increasingly complex investigation, built upon countless hours of electronic surveillance.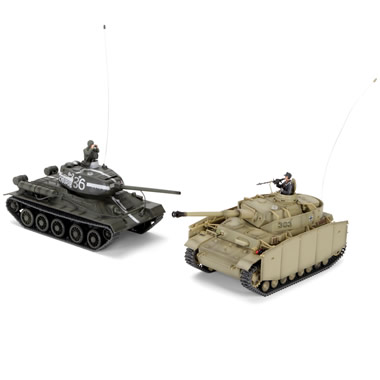 The Remote Controlled Authentic WWII Battling Tanks
. With authentic period details, realistic sounds, and infrared "projectiles," these remote controlled tanks re-enact the famous armored clashes of World War II's Eastern Front.