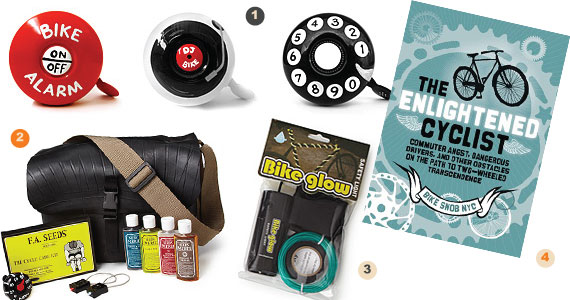 We all know someone that loves to ride and has had a close call with a car or a door opened carelessly.  Here are a few ideas that will keep your rider safe while scratching them off your Holiday shopping list: 1. Bicycle Handlebar Bells
, 2. Go Cycling Kit
, 3. Bike Glow Safety Light
,  4. The Enlightened Cyclist,  5. Bicycle Glasses – Set of 8
, 6. Diamond Bike, 7. Step Through Bikes, 8. Bikes Temporary Tattoos – Set of 4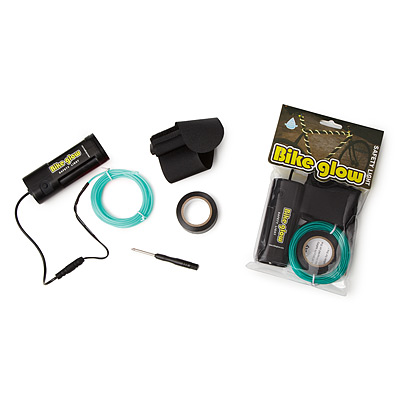 Bike Glow Safety Light
. As night falls, you speed through the streets on your bicycle. As motorists zip past, they easily spot you in the darkness because the frame of your bicycle glows brightly with pulsing lines of neon-colored light. No, that isn't some scene from a classic 80s sci-fi flick. That's just how awesome the real here-and-now can be when your bicycle is sporting this electrifying new bike safety light. Simply coil the 10 feet of electroluminescent cord around the frame of your bicycle, securing it with the included tape or with plastic utility ties. The light dramatically improves visibility from all directions, and can be adjusted for steady glow or two speeds of flashing.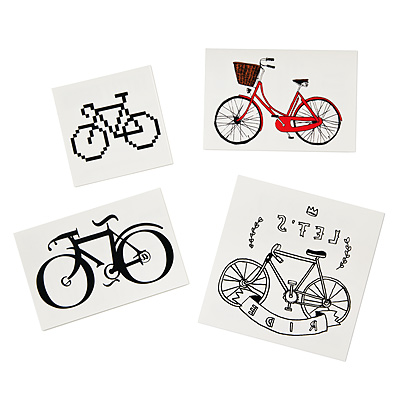 Bikes Temporary Tattoos – Set of 4
. Hit the road with a rocking representation of your number one mode of transportation. These hip temporary tattoos let you ink up without making a lifetime commitment. Featuring three different types of swingin' cycles, these tats are easily applied by dabbing a moist cloth and will last up to five days–or whenever you choose to go through your next style cycle, whichever comes first. The vegan-friendly graphics are made with non-toxic, FDA-certified inks. Set includes designs by Mike Lowery, United Pixelworks, Matthew Sutter, and Katie Evans.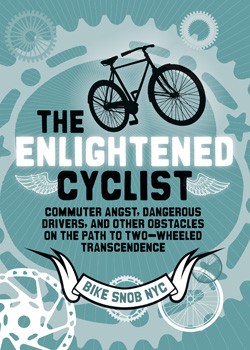 The Enlightened Cyclist. The joys of commuting by bike attract scores of new converts every year. But as fresh-faced cyclists fill the roads, they also encounter their share of frustrations—careless drivers, wide-flung car doors, zoned-out pedestrians, and aggressive fellow cyclists, to name a few. In this follow-up to the best-selling Bike Snob, BikeSnobNYC takes on the trials and triumphs of bike commuting with snark, humor, and enthusiasm, asking the question: If we become better commuters, will that make us better people? From the deadly sins of biking to tactics for dealing with cars, pedestrians, and other cyclists, this primer on bike travel is a must-read for cyclists new and seasoned alike.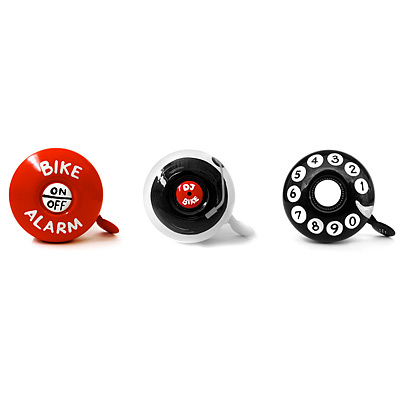 Bicycle Handlebar Bells
. these expressive bike bells announce your arrival with more than a "ring ring". These charismatic chimes are handpainted using eco-friendly paints in a variety of playful plays on the bell shape. Song-worthy graphics like a bright red bike alarm, an LP spinning DJ set or a rotary phone are sealed in when these bells are "baked", preserving the lively paintings and locking out moisture. A harmonious union of classic function and modern imagery, these playful bells add flair to your ride allowing you to chime in while you click into high gear.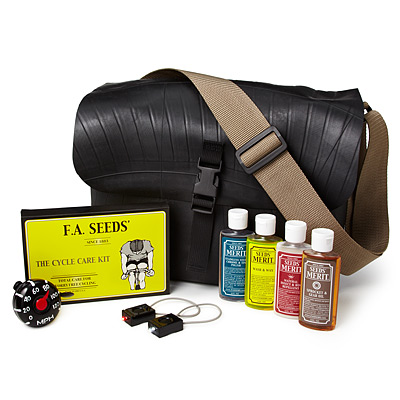 Go Cycling Kit
. Gear up before you get rolling with this set of accessories for the cyclist, contained in a rugged messenger bag made from reclaimed tire inner tubes. In the bag you'll find a bike bell that allows you to chime in when you click into high gear, a travel-sized cycle care kit that keeps your ride in top shape, and two brilliant bike lights that make you more visible and help illuminate the road ahead of you.
Bicycle Glasses – Set of 8
. Take all-occasion glassware on a tour de style with these statement-making glasses. Bold bicycle silhouettes are screen printed directly onto these cups using a special ink that cross bonds with the surface, making them dishwasher safe and durable enough to be a part of your daily cycle.

The Diamond Bike is ideal for rides in any urban (or rural) terrain, whether you want to speed around town or enjoy the slow ride life. Comfortable enough for everyday trips for casual riders and reliable enough to be your everyday, rain or shine, commuter workhorse.

Step Through Bikes. With its curved, open, step-through frame design, it is often referred to as a Dutch bike. It is especially well suited for those who wear skirts or prefer not to swing a leg over a typical frame crossbar. The PUBLIC S7 embodies old-school aesthetic charm with modern components.