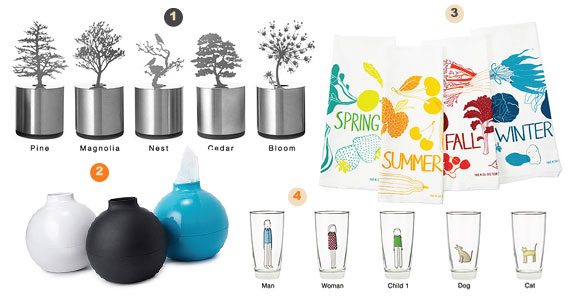 This Holiday season wow your Mom with one-of-a-kind gifts she did not see at the mall.  Here is a list of cool gifts for Mom 2012:  1. Lumen Oil Candle Shadow Projectors
, 2. Paper Pots
, 3. Four Seasons Towels Set of 4
, 4. Family Glassware
, 5. Micro-Green Kits
, 6. Flavors of America Salt Collection
, 7. Mother & Daughter Necklaces – Set of 2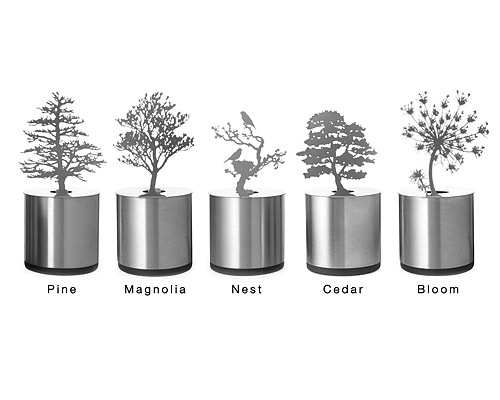 Lumen Oil Candle Shadow Projectors
.  This modern little oil candle casts an enchanting shadow from a tiny, stainless steel tree. As the flame flickers, the shadow of the tree moves like a light breeze is rustling its branches. A unique twist on a normal candle. Give one to your favorite hostess or light several at your next dinner party. The shadow's intensity and size will be affected by additional light in the room – the darker the room, the better the results. Comes with two containers of odorless, clean-burning liquid wax that last 17 hours each.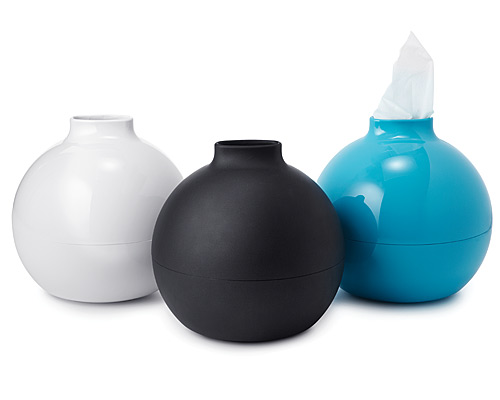 Paper Pots
. Turn that boring box of tissues into a sculptural statement with this functional and colorful tissue holder. Modern and refreshing, the paper pot is perfect for the bathroom as a toilet paper dispenser or as a tissue dispenser in any room. Pot unscrews and has a rod in the center to set tissues on or to hold a toilet paper roll. Mix and match the colors for even more fun!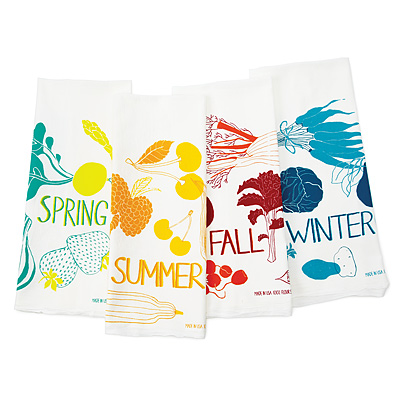 Four Seasons Towels Set of 4
. Claudia Pearson is an acclaimed illustrator whose work has been seen in the pages of The New Yorker, The New York Times, and other major publications. Her images often seek to portray a place or idea by showing its details laid out in an orderly manner. With these illustrated tea towels, Pearson's unique vision leaves the page to bring beautiful detail to any home. This set of four towels are hand printed with Pearson's depiction of the four seasons, each filled with characteristic fruits and foliage. Their large size–measuring two-and-a-half feet long on each side–makes them useful in many ways beyond simply drying dishes. Hang one in a sunny kitchen window for a splash of color, or picture them displayed outside, catching the breeze. Throw one over a tea table when serving refreshments, or use them as part of a seasonal centerpiece. These towels are the everyday, made beautiful.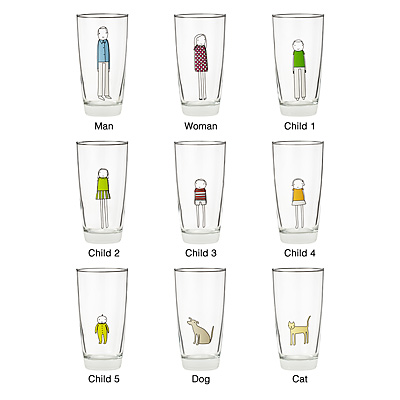 Family Glassware
. Raise a glass to your family! Or rather, a whole set of glasses graced with whimsical illustrations from mother and daughter team Mary and Shelly Klein. Pick your line-up from the available selection of man, woman, children and pets, so that everyone at the table can see themselves reflected in their own special glass. Printing is done using organic inks that are 100% free of heavy metals.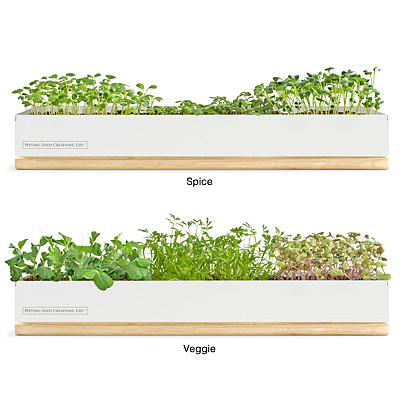 Micro-Green Kits
. You could call it a windowsill planter, or a tiny farm; either way, you'll be practicing full-on agriculture with these cleverly-designed kits. The sleek recycled steel box contains a soilless growing medium, two full crops of seeds, a bamboo lid, and directions. Sowing, sprouting, growing and harvesting your mini-field of salad-ready, USDA-certified organic sprouts will take just 7-14 days. Made in Idaho. The Spice Kit grows Japanese mustard, daikon radish and edible chrysanthemum sprouts. The Veggie Kit grows red cabbage, mini-carrot greens, and tom thumb pea greens.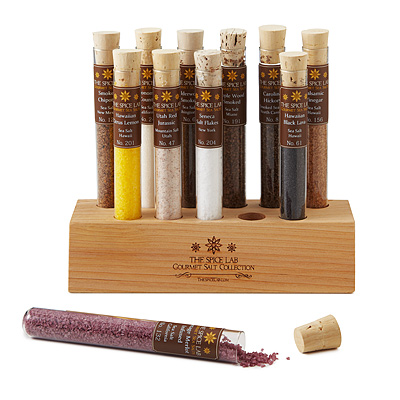 Flavors of America Salt Collection
. Change everyday cooking into something worth savoring by experimenting with this all-American assortment of 11 gourmet salts. This comprehensive collection includes salts that have been smoked with American hardwoods, infused with citrus, and flavored with balsamic vinegar, as well as several natural salts with distinctive qualities, such as Utah "sweet salt" and flake salt from New York. The glass storage vials invite exploration while allowing their contents to prove visual spice to your counter top, and the set is held in a handsome, handmade base of reclaimed American cedar. The set comes with a guide to the salts and suggestions for the best way to showcase their unique flavors in your favorite dishes.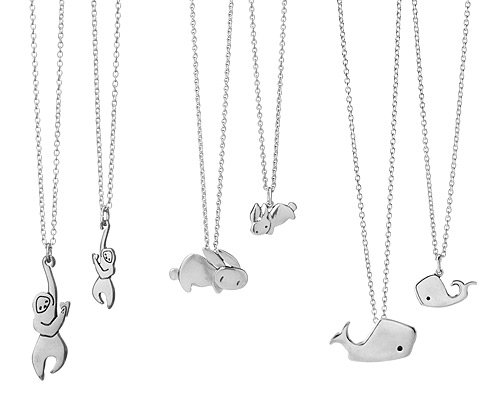 Mother & Daughter Necklaces – Set of 2
. Whether you're a swinging around the playground or going bananas in the kitchen, to you parenting is as fun as a barrel of monkeys! Like delightful sketches from a grade school notebook, this adorable white bronze necklace set by artist Mark Poulin lets you wear your love for your favorite person to monkey around with. Pendants made of white bronze on a sterling plated chain with a sterling silver clasp.