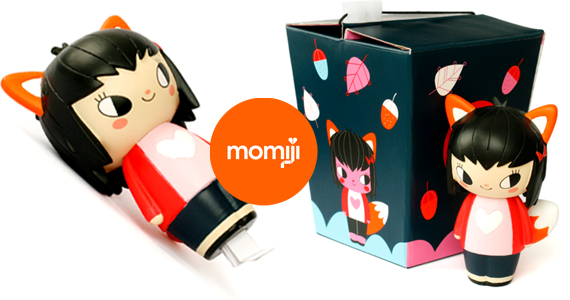 Helena Garcia has teamed up with Momiji to create a limited edition foxy message doll. VIXEN is a shy but sneaky fox with a red bomber jacket and razor sharp hair-do. A global limited edition of 750 pieces, VIXEN is available exclusively from www.lovemomiji.com. Each doll is hand-numbered on the base.
Packaged in a signature Momiji noodle box and printed with a smartie coloured forest, VIXEN will be snapped up by fans of Momiji and Helena Garcia from around the world upon their release worldwide this Friday March 8th.

Momiji are collectible, message dolls. Inside each one there's a tiny folded card for a handwritten message, dream or wish. Momiji work with talented designers form around the world to create limited edition collections. Each doll has its own individual style and story. Once you own one, they're oddly addictive.
About Helena Garcia (www.helenagarcia.com) – Helena, enjoys creating whimsical characters, from little girls with funny hair cuts to animals and everything in between. She finds inspiration in Japanese aesthetics, 1960's cartoons and vintage design. When she's not doodling and drawing she is devoted to eating desserts, napping with her chihuahuas and watching movies.