Alright, you have your Pinterest recipes – check! You have the plans to transform your living/dining room into an explosion of hearts, love, reds, pinks and whites – check! You have all the ingredients in the recipes – check! Now, do you have all the nifty tools that make your cakes and cupcakes in shapes of hearts? If you don't have these, don't worry! I have some ideas in this post that will help out in that arena. Plus, some love inspired tools to get you in the right mood to bake for your sweetheart.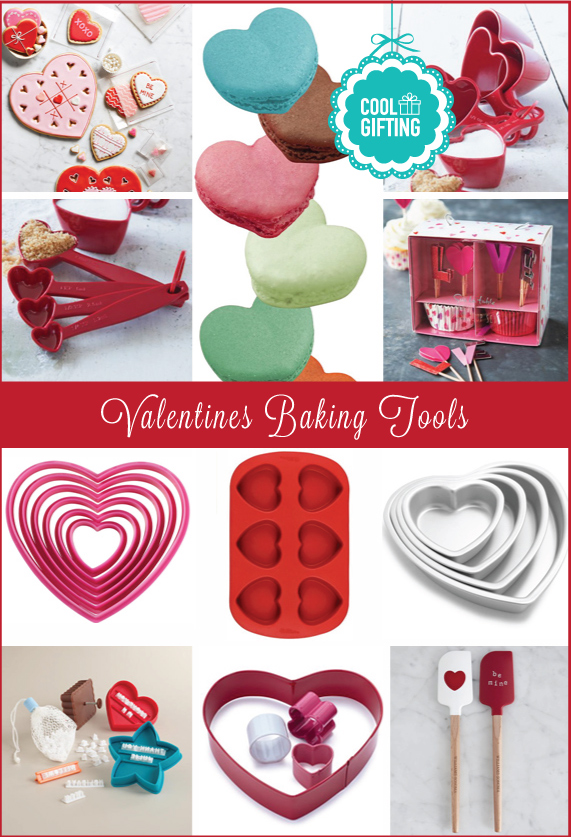 Spell out your sweetest sentiments with home-baked valentine cookies. This vintage-inspired cookie cutter has interchangeable heart-shaped plates for three different designs. Create a plain heart with a scalloped border, or hearts imprinted with "XOXO" or "Be Mine."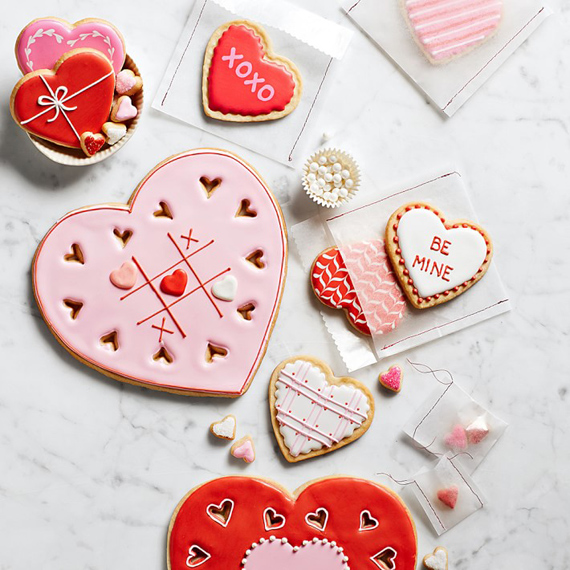 Measure out a heaping helping of love with our fun heart-shaped measuring cup set. Cups nest inside one another and include a handy ring for easy storage.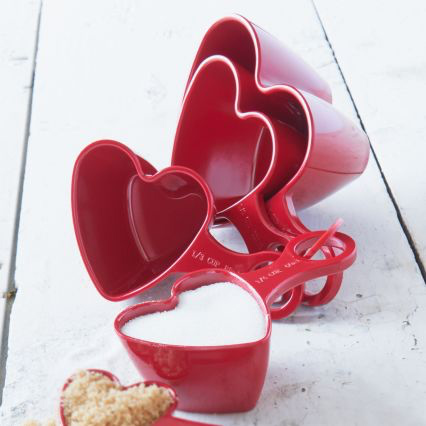 Serve all sorts of petite treats with Wilton's adorable heart mold pan. A perfect addition to Valentine's Day, anniversaries, or brunches, the silicone baking tool features six heart-shaped cavities with cheerfully full curves and well-defined outlines. Simply pour in a favorite recipe and bake or cool, then flip and decorate-it's so much more fun than traditional squares or circles! Silicone is ideal for baking because it handles temperatures up to 500 degrees F and goes safely into the oven, microwave, and freezer. Lightweight yet durable, it is also flexible for easy food release, and it resists stains and odors. Each cavity measures 2-1/2 across, and one cake mix makes 20 to 24 mini hearts. The entire pan measures 10-5/8 by 7 by 1-1/4 inches. Here's another bonus: because the pan is dishwasher-safe, there's less time spent in the kitchen washing up and more time sampling the goodies.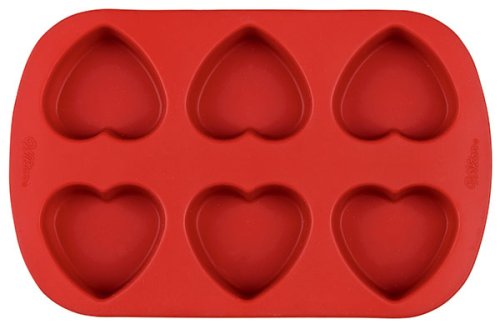 Create your own special desserts or homemade soaps with the Freshware CB-310SC 12-Pack Silicone Heart Reusable Cupcake and Muffin Baking Cup, Six Vibrant Colors. Simply pour your favorite recipe in the cup, prepare, and cool completely. Then turn it upside down, this flexible silicone cup offers a non-stick surface that allows the baked goods to pop right out with a little push from the bottom. Remember to place the silicone baking cups on a baking sheet for easier positioning and removal. Creative ways to use Freshware silicone baking cups include to create delicious homemade cupcakes, muffins, brownies, cheesecakes, bento boxes, chocolate and snack bowls, frozen baby foods, gelatin, ice creams etc. Or use the molds in unique ways to create clays, resin casting, candles, soaps and more.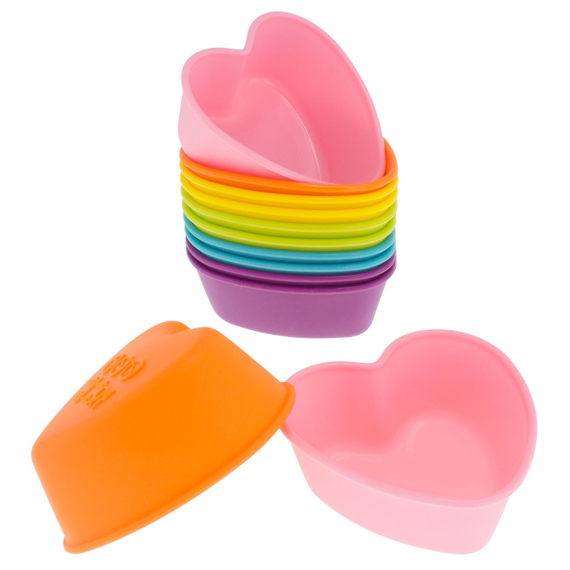 The Silikomart macaron mat measures 15.75″ x 11.8″, makes 21 macrons of 1.5″ and comes with 24 disposable piping bags. The mat works with most standard 1/2 sheet baking, jelly roll and cookie pans and it's high glossy finish ensures easy release of baked goods and even cooking. Just pipe within the given circle guidelines for a perfect French macron every time.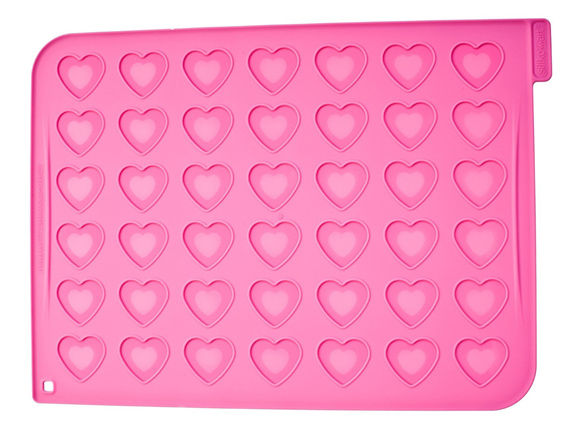 Great for cookies, imprinting patterns in icing, cutting bread shapes and more. Plastic in sizes from 2.25 to 4.2 in.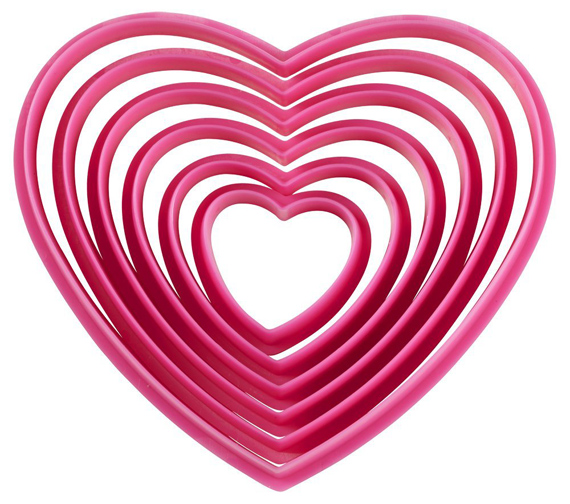 This adorable set includes one-tablespoon, one-teaspoon, ½-teaspoon and ¼-teaspoon measurements.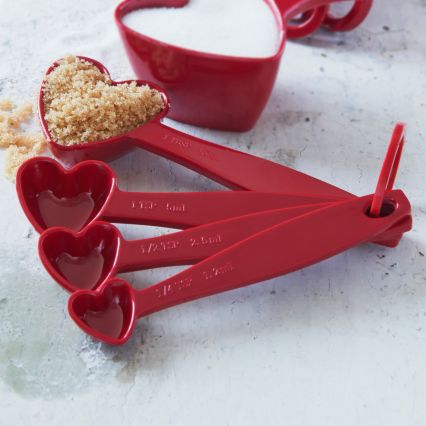 Add a touch of romance to your baked creations with this delightful bake cup set. Featuring whimsical heart bake cups and decorative picks that spell out "love," this set is the perfect way to dress up a batch of Valentine's Day cupcakes.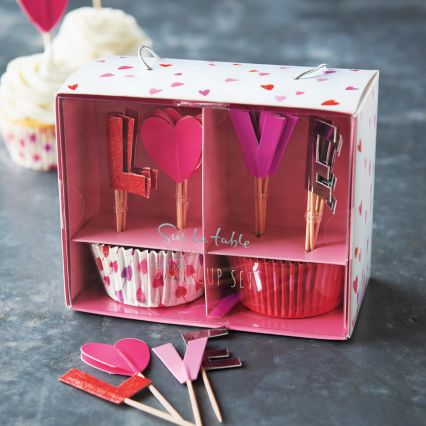 Bake up some romance with this cookie-cutter tic-tac-toe set. Use the large heart-shaped cutter to make the board, and the smaller X-, O- and heart-shaped cutters to make the game pieces. Perfect for Valentine's Day or a romantic dessert.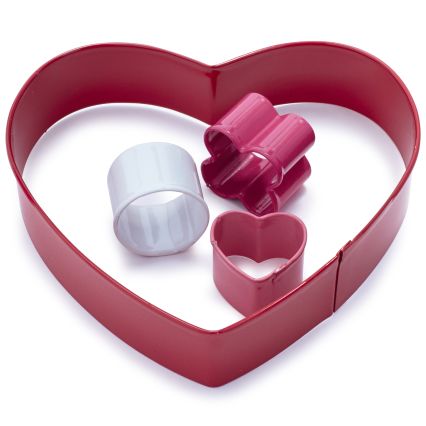 These mini spatulas are full of heart and ready to assist with Valentine's Day preparation. Their slim size is ideal for scraping the corners of the blender or scooping from small jars, and their petite proportions make baking projects with the kids even sweeter.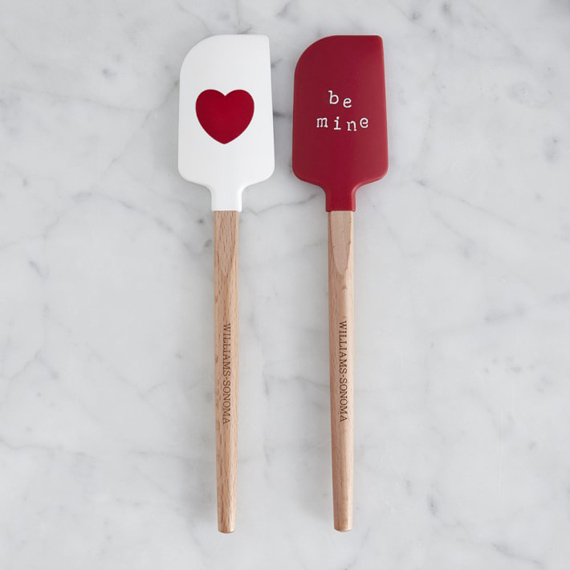 Add a sweet greeting to homemade cookies with our easy-to-use Message Cookie Cutter Set. It includes seven preset words and phrases, from "I Love You" to "Thank You," along with two complete sets of alphabet letters for custom messages. Perfect for Valentine's Day, birthdays or any occasion, each of the three stamp cutters has space for up to two lines of text.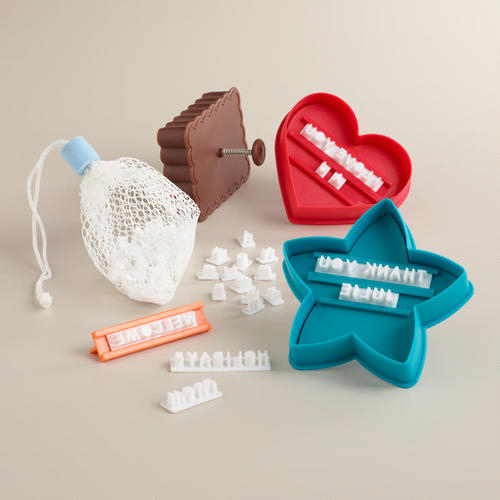 Fat Daddio's anodized cake pans are a great addition to any cook's kitchen. Thick, 16-gauge pans provide even heat distribution, improved safety and unmatched durability. The anodized aluminum is non-reactive with acidic and dairy ingredients, and a professional-grade nonstick coating ensures baked goods slide out easily. Each pan features folded corners and reinforced rolled edges to prevent warping even after years of use.