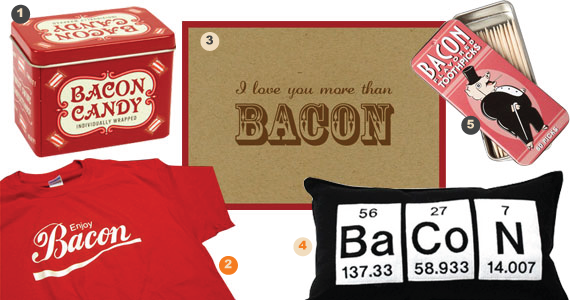 Everything tastes better with bacon!  Even pillows and clothes are better with a little bacon on it.  Read more bacon bits after the jump: 1. Bacon Candy (Similar), 2. Bacon Tee (similar Periodic Table Bacon Tee) + (Similar Dark Side Bacon Tee), 3. I Love You More Than Bacon Card, 4. Bacon Periodic Table Pillow, 5. Bacon Flavored Toothpicks
.
Are you gifting for a bacon lover with a sweet tooth? In this case you can gift some bacon candy or  bacon flavored candy canes.  Bacon candy look just like their minty counterparts but  instead of an innocent touch of peppermint, they pack a sweet/savory bacon slap in the mouth!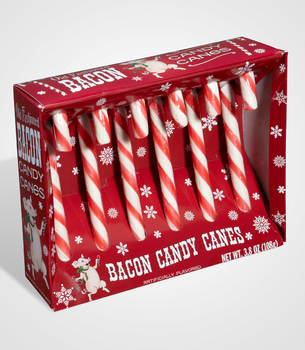 Our favorite bacon shirt is the vintage Coca-Cola themed tee below:  This shirt is designed and printed by SupremeGeek on Etsy. (Similar Dark Side Bacon Tee)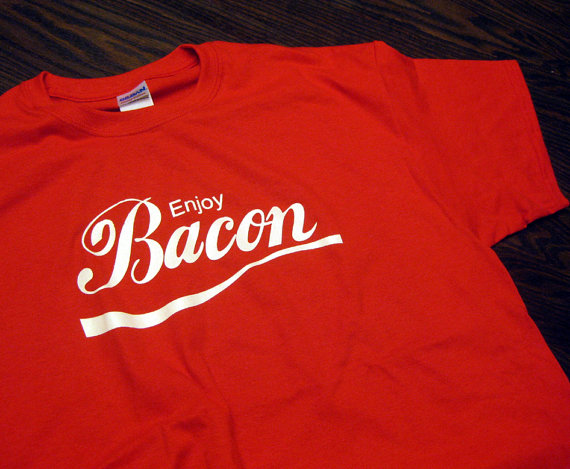 You can also gift the Periodic BaCoN Shirt.
Support the independent card industry by giving unique cards from small card printers Borrowed & Blue Paper Creations or Calling All Cards on Etsy.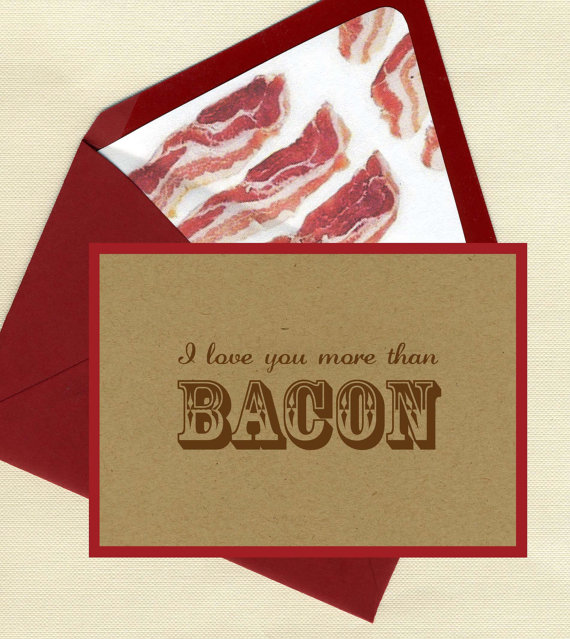 For the fan of Breaking Bad or Chemistry get the Periodic Table Bacon Pillow.  Made up of Barium, Cobalt and Nitrogen: BA CO N. Read it and weep, you have discovered the perfect gift.  It is available at the Yellow Bug Boutique on Etsy.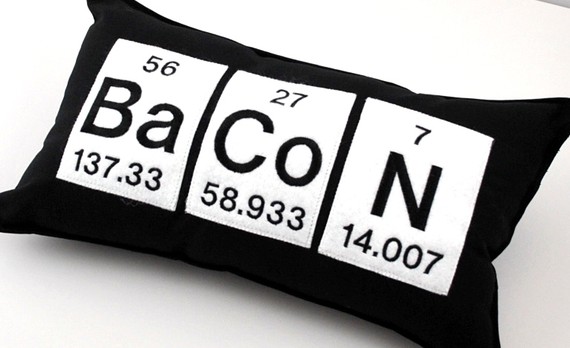 Finally, if your friend simply likes the taste of bacon after every single meal, you must get the Bacon tooth picks.  It is the gift of dental hygiene and bacon bliss.