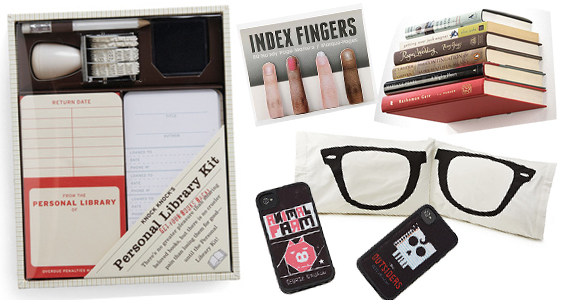 I love shopping for my book worms.  They are so easy to shop for because anything that resembles a book will make them happy – literally.  If you haven't found any book looking gifts don't worry.  Any gift that make a reference to one of their favorite authors or books will be even better.  Here are some great examples of gifts for book snobs:  1. Literary iPhone Cases
, 2. Eyeglass Pillowcase – Set of 2
, 3. Literary Art Kindle Fire Case
, 4. Index Finger Page-markers, 5. Personal Library Kit, 6. Floating Books Wall Shelf
Literary iPhone Cases
. Give your iPhone some hardcover protection with these literary heavy hitters. The sturdy, two-piece hard shell iPhone cases are graced with iconic cover art from George Orwell's Animal Farm and S. E. Hinton's The Outsiders. The graphics are printed onto a durable canvas, to create an authentic texture.
Eyeglass Pillowcase – Set of 2
. Just rest your eyes on this tirelessly hip set of pillowcases. The pop art silhouette of black plastic glasses is spread across the face of both pillows, artfully framing your bed. The image is printed on 100% cotton fabric, which will feel cool and beautiful even when your eyes are closed.
Literary Art Kindle Fire Case
. Give your Kindle Fire some hardcover protection with these literary heavy hitters graced with iconic cover art from the first editions of classic fictional works. Cases have the look and feel of a real hardcover book since each cover is manufactured by a book binder that has been in business for over 100 years.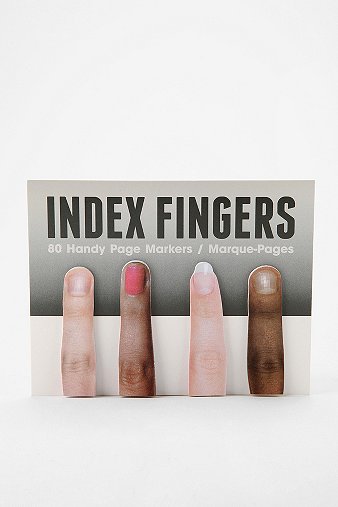 Index Finger Page-markers.  Time to give unsightly dog ears the finger.  This playful set of page-markers in the shape of a diverse array of index fingers will easily mark where you left off without mangling your precious pages.  It  makes a handy studying accessory too!  The set includes 4 individual pads for a total of 80 markers.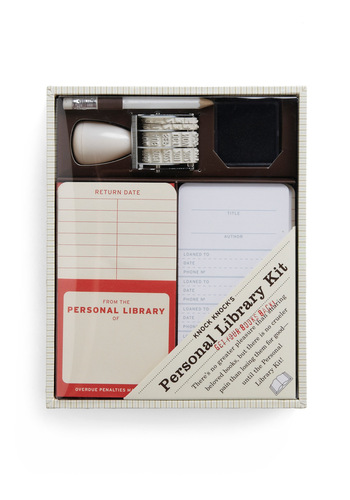 Personal Library Kit.  No one's shelf of books can stack up to your legendary personal library! Packed with page-turning novels  retro recipe books  and rare first editions  your collection is far too special to share without this petite kit of proper cataloguing supplies. Plot an envelope and check-out card in each back cover  and remind your friends when its due back with the included date stamp and black ink pad. Complete with a genuine pencil to jot down contact info and coin fines this collection of timeless equipment will start a charming new chapter of keeping track!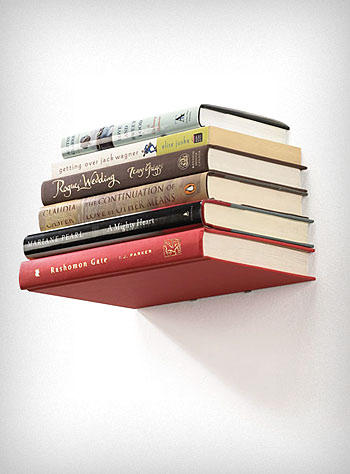 Floating Books Wall Shelf.  Everyone will think you are a magician when they see your books mysteriously floating in the air with this invisible wall shelf. Easily mounted with just 1 secure screw, it can store a stack of 5-10 books. Group multiples together on the wall for an urban modern accent.