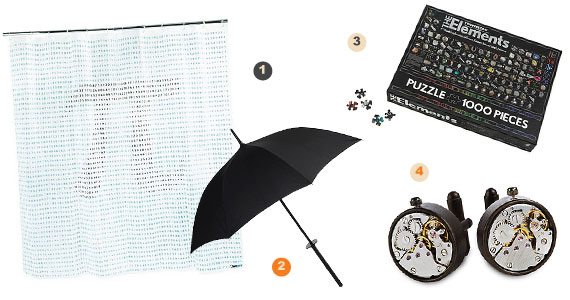 Continuing with our gifting for geeks series, I have compiled some other gift ideas. This collection focuses on the Periodic Table, elements, Math, gadgetry and of course, ninjas: 1. Pi Shower Curtain
, 2. Ninja Umbrella
, 3. Elements Puzzle
, 4. Watch Movement Cufflinks
Elements Puzzle
. Think the periodic table is too puzzling? Crack the chemical code with the Elements Puzzle. Based on Theodore Gray's beautiful photographic table of elements, this fun and educational game is a visual wonder to behold. Each 1000-piece jigsaw is made of sturdy stock and measures a whopping 36 x 16 inches. The picture-loaded Elements Puzzle lets you "piece together" the names of the elements with what they look like or whom they're named after.
Lab Test Games
. The premise sounds simple enough: take the wooden particle apart and then try to rebuild it without sneaking a peek at the solution. But watch out, recognizing spatial relationships and spotting the solution is about as easy as seeing an atom, particle, cell or molecule with the naked eye! Each measuring six inches in diameter, these extra-large, science-inspired brainteasers for older kids or grown-ups will put your gray matter to good use. Each puzzle has a different concept and difficulty level. Once you've completed the Atom, the Molecule poses the next challenge, and then the Particle will stump you. Up for the ultimate challenge? You can tackle the Cell.
Geek Belt Buckle
. For those who embrace their inner geek, finding an accessory that adds a bit of personality to your plain pants can leave you positively puzzled. Fortunately, when you add Kaycee Binns' quizzical belt you'll discover a smart style solution in its numerals, geometry, and suggested physics formulas. In this sturdy zinc buckle, Kacee seals what looks like a regular Einstein's chalkboard in resin, bringing a contemporary aesthetic to complex arithmetic.
Ninja Umbrella
. Rain: Ninja. You are but a mere mortal and no match for my powerful torrent. Do you surrender? Ninja: Ah, Rain. You are a most worthy opponent and teacher. But I will never surrender. Rain: Ha! Ha! Ha! Your bravery humors me. Please continue. Ninja: Laugh now, Rain, for it will be the last time. (Unsheathes umbrella.)Rain: The ninja umbrella. But I thought it was a myth! Ninja: Used by the samurais before me. Passed down by my ancestors. Full of the wisdom of the ancients. With this umbrella, I will defeat you once and for all, and I will bring honor to my family and dry clothes to my home. HIIIIYAAAA! You too can bring honor to your family with the ninja umbrella featuring a samurai sword handle. Comes with carrying case for dramatic effect (and easy transport).
Pi Shower Curtain
. Now you can enjoy the clean, refreshing feeling of showering in an infinite stream of numbers. Printed on EVA vinyl, with blue numbers on a translucent white background and the Greek letter highlighted in black in the center, this curtain carries pi out to a mere 4,600 decimal places.
Watch Movement Cufflinks
. Add some gear to your getup with this living set of links that tick, tock, and turn dynamically at your wrists. Activated gears, levers, and jewels measure time with the frenetic energy of a turn-of-the-century wind-up watch, but in this unique, decorative variation, the standard protective cover is ditched in order to display the sensational, mini steampunk world within. You'll honor those fine-tuned industrial marvels of centuries past when you don this pair of tool-meets-techcessories that are future perfect.