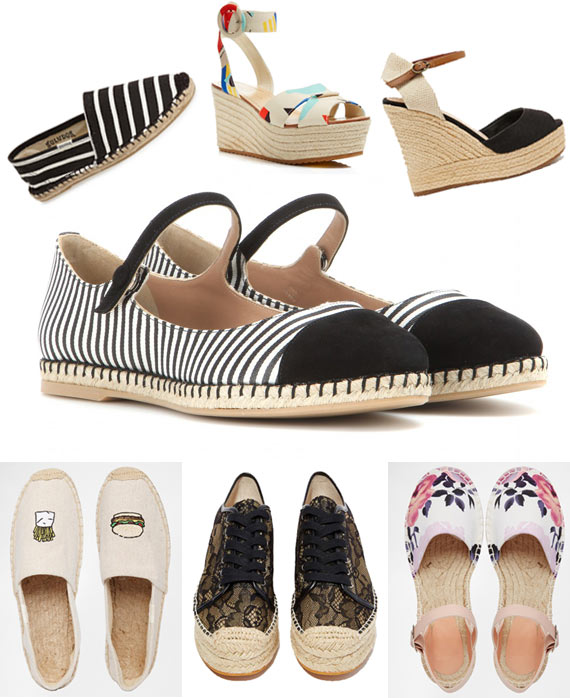 Every summer the earthy fashionable espadrille shoe makes a come back. This summer you can find espadrille flats, espadrille wedges and everything in between. This summer, every big designer brand has their own take on the espadrille trend including big designer names Valentino, Dolce & Gabbana, Miu Miu, Balenciaga, and many others . If you are looking for designer espadrilles you should shop at Net-a-porter, Moda Operandi, My Theresa, or Shopbop. I've put together a list of my favorite stylish espadrilles. The espadrille shoes in the post fall in a wide range of prices. So there should be something for everyone, whether you are looking for chic on a budget or you are looking to splurge on the latest summer trend. I tend to fall in love with things regardless of their price point. I find some cheap plastic bracelets with bows raise my heart rate just as much as Elie Saab runway dresses pricing in the tens of thousands. That's just me, not everyone agrees; and I know people who would disown me for my aesthetics first, brand last philosophy.
Let's get started with our Spanish inspired footwear trend.
Shop The Espadrille Summer Trend

These shoes are the cutest take on the Mary Jane design! With adorable rounded black tips and a delicate strap, these are my favorite find of the espadrille trend. I would wear these sophisticated flats all summer long! I can already picture a Parisian ensemble wearing a skirt, scarf, hat and sunglasses with this pair of shoes. So cute!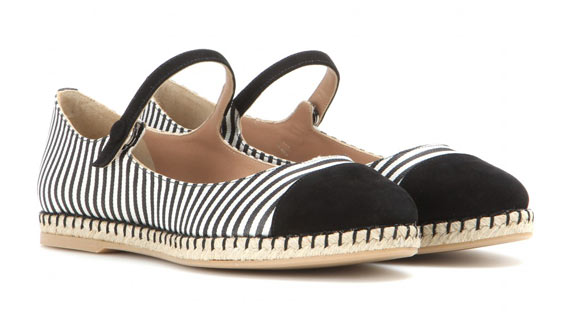 These monochrome striped flats will match most outfits. The traditional striped pattern mixed with the trendy summer shoe trend will have you walking around comfortably chic. You can pair anything from jeans to skirts with these espadrille flats. You can't go wrong with a pair of classic flat espadrilles this season.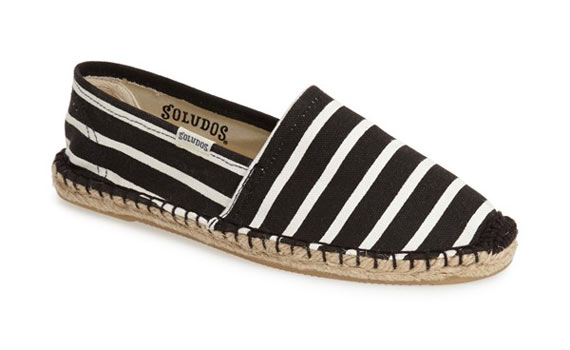 Don't miss the 70s revival platformed wedged sandals! They are back and funner than ever. These designer sandals by Alice + Olivia are all the proof we need. I have always had a weak spot for espadrille wedges. So, of course, I am in love with these colorful sandals. Take a look at that charming round buckle detail on the ankle strap.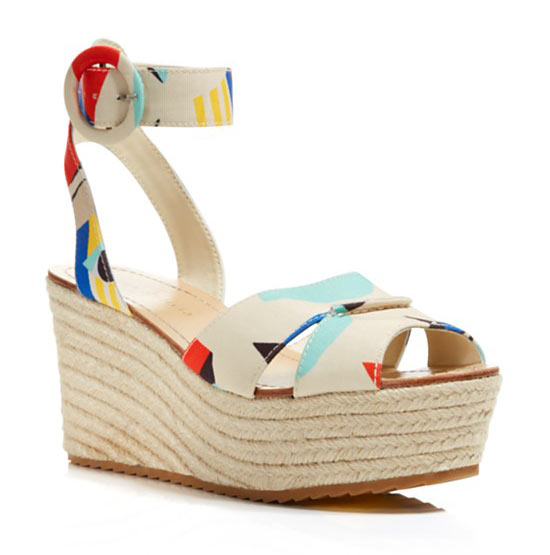 For those of you looking for a higher heel in your espadrille wedge, I present to you the Suherke Espadrille Wedge Sandals. These classy open-toed wedges will add a summery vibe to any outfit. Plus, with those jute, brown and black colors you can wear these shoes with pretty much any outfit. Matching has never been easier. Step into the espadrille trend with these wedges available at ASOS.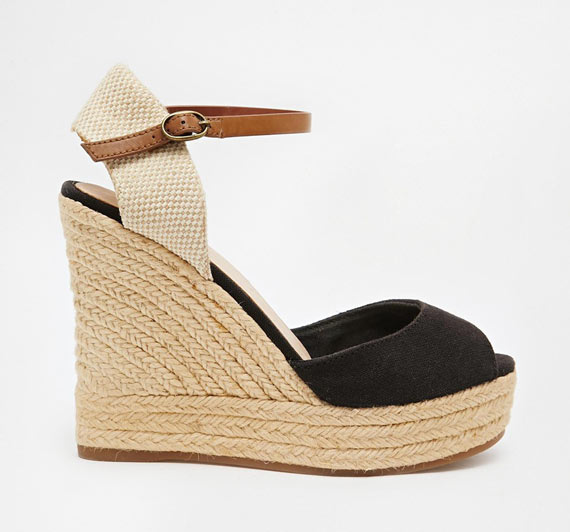 I can see why espadrille shoes are so big during the summer. They pair so perfectly with skirts and shorts for a hot outfit. Take these espadrille sneakers for example; the mix of lace and espadrille add a touch of breezy innocence to any outfit. You can wear overalls or a girly skirt with these shoes and feel perfectly fashionable wearing these shoes. This is the first time I see espadrille sneakers with laces and I love it!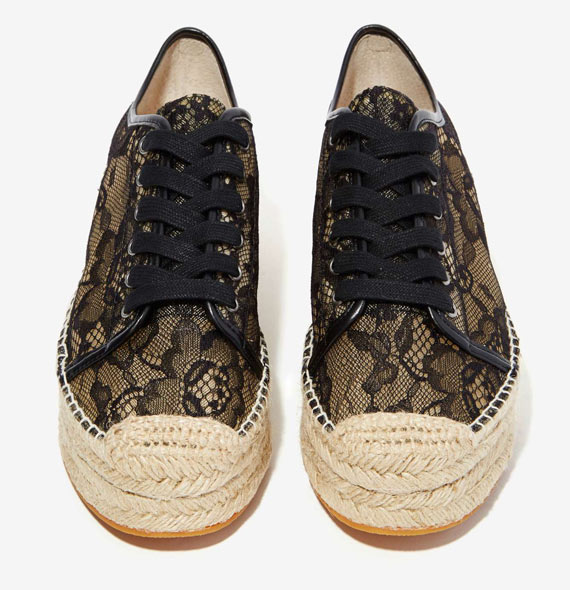 These floral espadrilles are the perfect segue between spring and summer. The pastel floral pattern gives these shoes a whimsical feel while the espadrille says, "I'm ready to walk under the hot sun." I would wear these adorable espadrille flats with jeans, skirts and shorts. Wear a maxi dress with these flat sandals and a floppy hat to the beach and you'll be beach chic.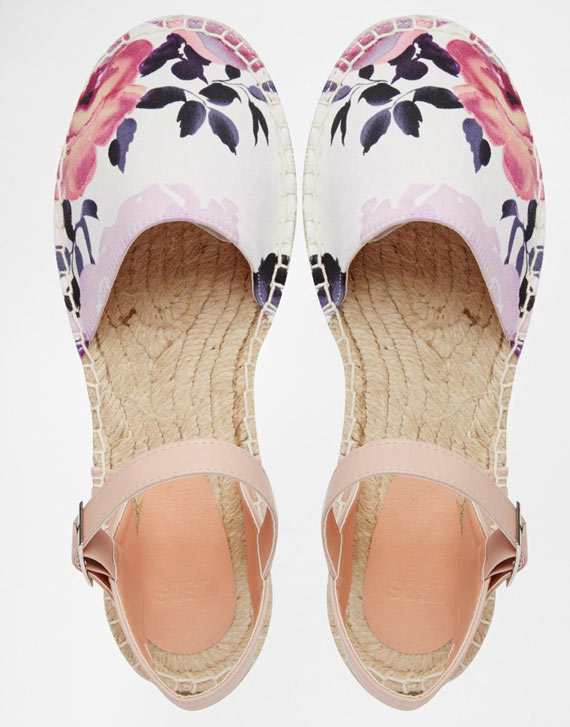 There are so many cute espadrilles this season that I cannot feature all of them. I do have more styles in the shop the trend slider. So if you are interested in seeing more options please check it out near the top of the post. BUT, I could not finish this post without showing you the fast food espadrille flats by Jason Polan for Soludos. Soludos has the traditional espadrilles in different patterns and embroidered accents. Definitely check out that brand if you are into espadrilles.