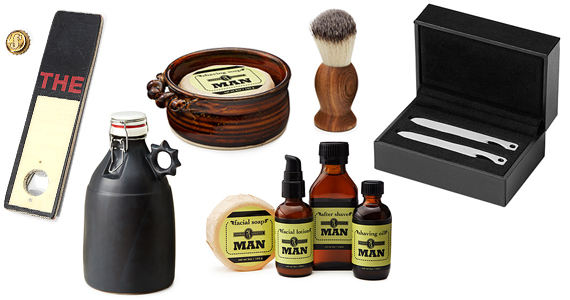 It's hard to find manly gifts for guys bubbling with testosterone.   There are many versions of this man.  There is the refined tough guy, rustic lumber jack, the psychological bully, the ladies big guy and of course the gnarly meat head.  There are other versions, our versions.  The ones we appreciate being part of our lives who won't allow anyone to cut in line ahead of us.   *Thank you big guy!* We all have at least one masculine gift to buy this year and here are some ideas:  1. Beer Soap 6 Pack
, 2. Herban Men's Grooming Set
, 3. Herban Men's Shaving Set
, 4. Sprocket Growler
, 5. Snowboard Bottle Opener
, 6. Titanium Multi-Tool Collar Stays
Beer Soap 6 Pack
. With this hand-brewed soap, you'll get to enjoy a fresh serving of suds with your morning shower. Crafted by San Francisco-based soap maker Hiromi, they come in a beer-lover's assortment made using local varieties of lager, ale, stout and porter. The alcohol is removed prior to being used, but each imparts the unique character of its grains to the final product. The beer is combined with natural oils, essential oils and top shelf fragrances for scent, cosmetic clay and rosemary oleoresin, a natural antioxidant. The resulting lathery foam is nurturing to the skin, a treat for the senses, and good clean fun. Comes packaged in a corrugated cardboard gift box with wood shavings
Herban Men's Grooming Set
. Leave the dainty bath pearls and lotions to the ladies in your life—this macho grooming set lets a man clean up his act without washing away his mojo. It contains face soap, shaving oil, aftershave and facial lotion, all handmade in small batches using organic or fair trade oils, extracts and spices. The pieces of the set can be used separately, or combined for complete morning care ritual. Creator Mary Kearns is a wellness consultant who developed these blends in honor of the men in her life. Inspired by the familiar scent of her grandfather's aftershave, she uses outdoorsy, herbal scents what will suit the manliest of men. They come boxed in no-nonsense, 100% recycled paper packaging.
Herban Men's Shaving Set
. Get the man in your life up in a lather with this handsome shaving foam set. It contains a bar of handmade shaving soap, crafted by soap maker Mary Kearns in small batches and using organic essential oils. The soap fits perfectly into the hand-thrown ceramic shaving mug, crafted by artist Sheila Loggan, which exudes a natural, rough-hewn masculinity. They also come with a vegan bristle brush with FSC wooden handle, for working up some earthily scented suds that make the morning shave a luxurious adventure. Packaged in corrugated cardboard box with a gift tag.
Sprocket Growler
. For beer enthusiasts, growlers bridge the gap between the tap and their table. The refillable half-gallon jugs allow brethren of the brew to roll up to their favorite brewery or artisanal shop, get a tap-fresh flagon, and enjoy their specialty pints of the good stuff in the comfort of their own homes. When poured days later, these hoppy suds taste just as crisp, and generously sized growlers help extend the amount of time drinkers can savor seasonal, limited edition, or just tap-only brews. Hand-crafted in Portland, one of the world's biggest craft beer hubs, this growler is a vessel designed specifically for beer. The hand slip-cast stoneware is coated with food-safe glazes, and since the container is opaque, a sunlit room won't threaten to skunk its tapped contents. The wide-mouth ceramic flip-top locks in flavor and fizz with an airtight rubber seal, and the sprocket-shaped handle offers a bold and practical way to get a grip on the good stuff .
Snowboard Bottle Opener
. Whether a snowboarder spends their day hitting the slopes or just taming mountains of paperwork in the office, there's no better way for him or her to chill than by cracking open a favorite drink, cozying up by the fire, and imagining future adventures. Made out of a former slope shredder, Michael Bellino's one-of-kind opener is the perfect tool to capture the spirit of the slopes year-round. Each unique piece is slightly weathered from catching extreme drifts in its past life.
Titanium Multi-Tool Collar Stays
. Whether you need to pop a bottle or pop an errant seam, you'll always be prepared when you pop your collar with these Titanium Multi-Tool Collar Stays. Go from snappily dressed to ready in a snap when you stow these featherlight (0.4 oz), 100% titanium multi-functional tools in your shirt collar. A great gift for dads and groomsmen, these sleek and discreet tools let gentlemen look dashing as they confidently tighten screws, slice threads and open bottles in a dash. These stays even feature a hole to keep safely on your key chain. Sold in a set of two (one pair).