For those who like water sports but don't like losing their swimsuit while they do it, I present these chic wetsuits & rash guards. Don't get me wrong, if you like wake boarding in a string bikini go right ahead. I'm not judging you. Maybe you haven't tried it yet. After all, no one warned me not to wear a bikini the first time. The first time I went wake boarding and fell, I had water up my nose, my ears, and other places; but most importantly, my bikini was a pair of useless rags that were not fulfilling their purpose of covering up my body parts. Now I know better and wear one piece bathing suits, preferably wet suits.
Rashguards are the modern pool t-shirt. In the past, when I was going to be playing in the pool all day my parents would make me wear a t-shirt in the pool because no amount of sunscreen reapplication tops a layer of clothing. Now a days, you can look stylish while you protect you skin. Plus, I love how rash guards give you the surfer look.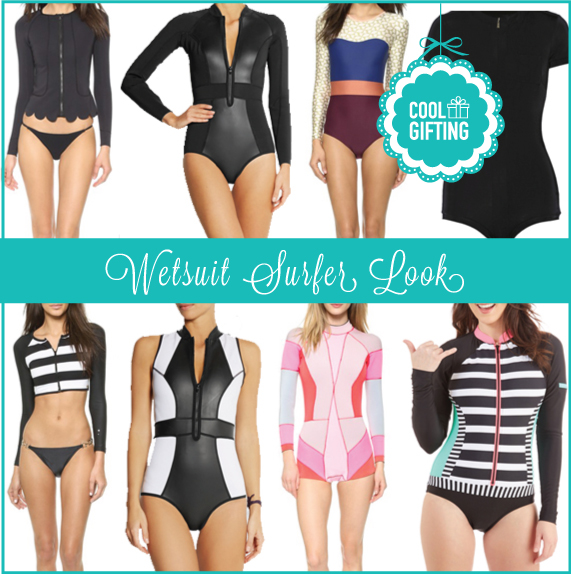 A PilyQ rash guard in a crop-top silhouette. Subtle metallic accents add a hint of shine. Exposed front zip. Long raglan sleeves.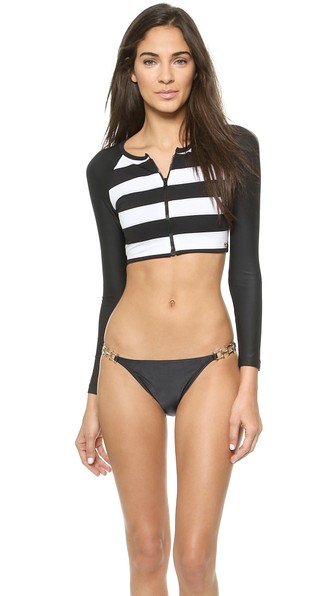 A surf-ready Cynthia Rowley swimsuit in slick neoprene. Neon stitching joins the colorblock panels. Velcro® closure, small pocket, and zip in back.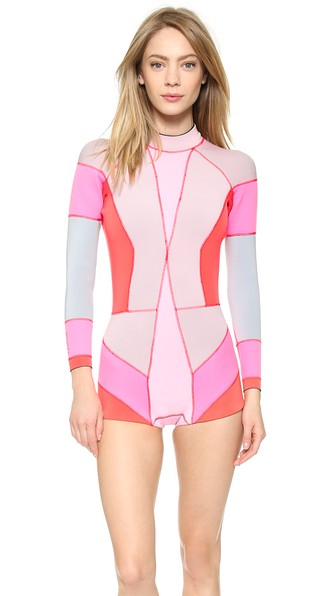 A scalloped hem puts a sweet finish on this Cynthia Rowley long sleeved rash guard.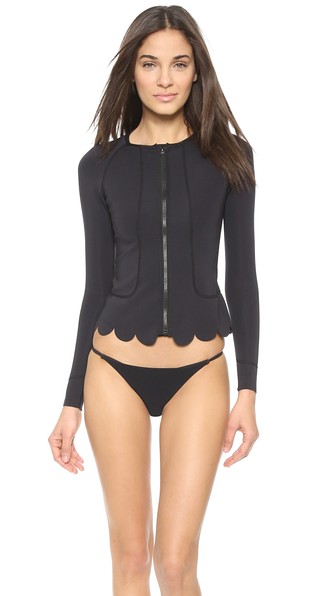 Duskii's spring suit is suitable for all water activities. Crafted from the highest quality neoprene, it insulates, contours the body and allows for unrestricted movement. Use the front zip fastening to control how much skin you expose.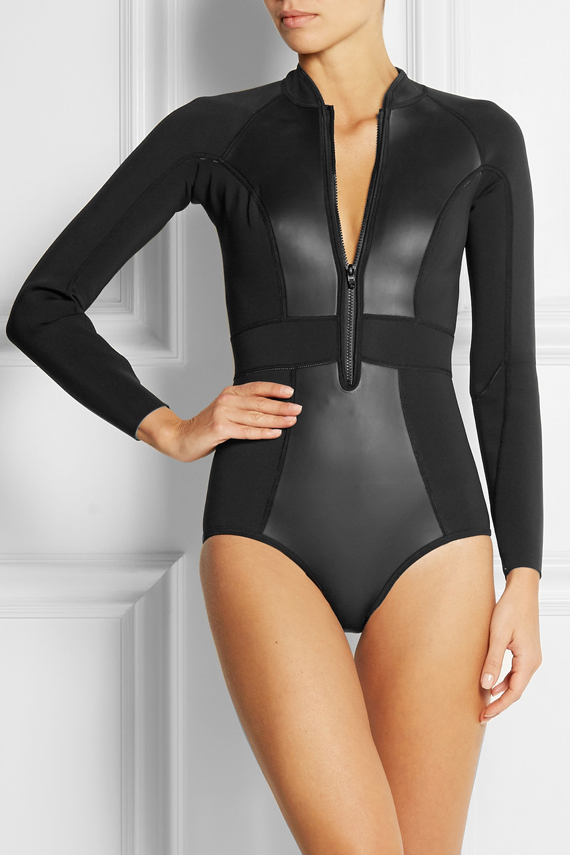 Standing tall atop your surfboard in this striped long-sleeved swimsuit, you ride the waves back to shore. Enhanced by pops of seafoam-green and neon pink, this front-zipped rash guard ensures your surfing skills aren't the only thing capturing attention when you finally reach the sand.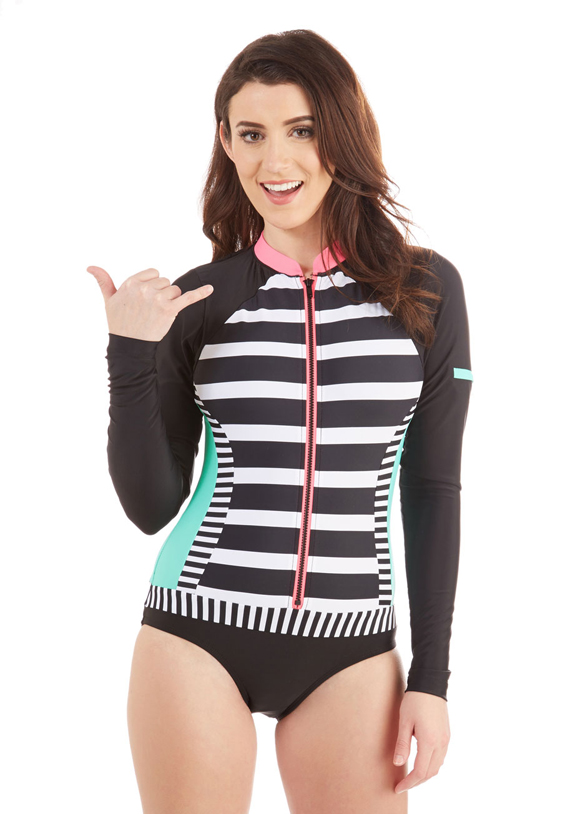 Duskii's 'Temptation' swimsuit is cut from the highest quality neoprene, carefully selected to be lightweight, supple and hold its shape whether wet or dry. Perfect for surfing, this zipped piece features reinforced seams at stress points – like the taped waistband – and seamless underarms for added comfort. The neckline has been cut high to protect against rashes, too.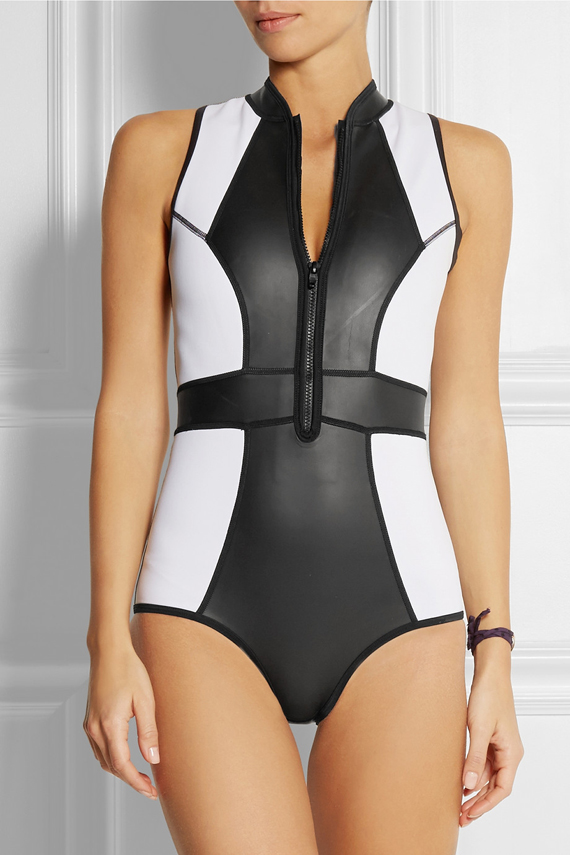 Jason Wu's black stretch-scuba jersey swimsuit has edgy 'Bond Girl' appeal. Designed with a provocative zipped front, small breast pocket and smoothing lining, this style is ideal for chic beachside lounging. Try wearing yours under a skirt as the perfect seamless underpinning.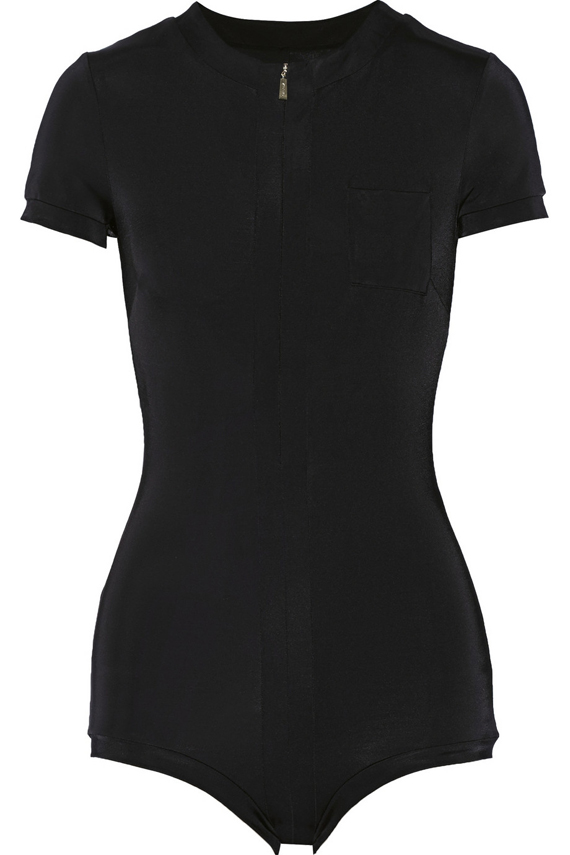 A colorblocked Seea surf suit with a sleek fit. Straps tie over the split back. Long sleeves. Lined.