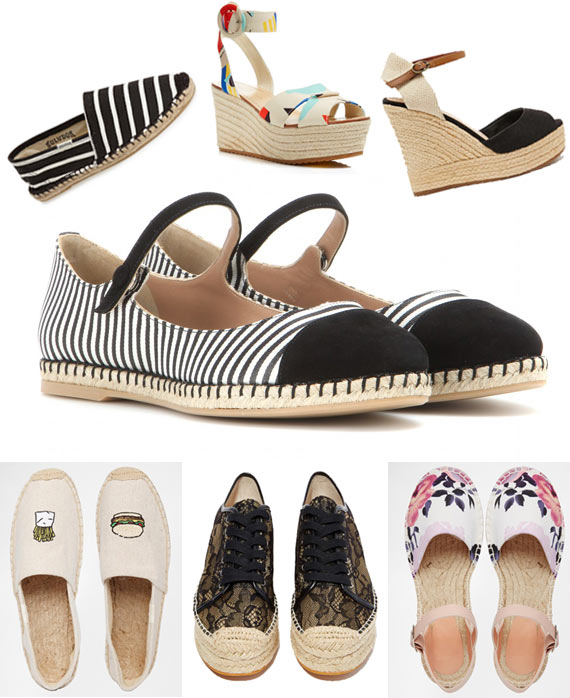 Every summer the earthy fashionable espadrille shoe makes a come back. This summer you can find espadrille flats, espadrille wedges and everything in between. This summer, every big designer brand has their own take on the espadrille trend including big designer names Valentino, Dolce & Gabbana, Miu Miu, Balenciaga, and many others . If you are looking for designer espadrilles you should shop at Net-a-porter, Moda Operandi, My Theresa, or Shopbop. I've put together a list of my favorite stylish espadrilles. The espadrille shoes in the post fall in a wide range of prices. So there should be something for everyone, whether you are looking for chic on a budget or you are looking to splurge on the latest summer trend. I tend to fall in love with things regardless of their price point. I find some cheap plastic bracelets with bows raise my heart rate just as much as Elie Saab runway dresses pricing in the tens of thousands. That's just me, not everyone agrees; and I know people who would disown me for my aesthetics first, brand last philosophy.
Let's get started with our Spanish inspired footwear trend.
Shop The Espadrille Summer Trend
These shoes are the cutest take on the Mary Jane design! With adorable rounded black tips and a delicate strap, these are my favorite find of the espadrille trend. I would wear these sophisticated flats all summer long! I can already picture a Parisian ensemble wearing a skirt, scarf, hat and sunglasses with this pair of shoes. So cute!